**I was provided with a copy of this title for the purpose of this review. However my own opinion was used and not influenced in any way.
My New Focus on One by One!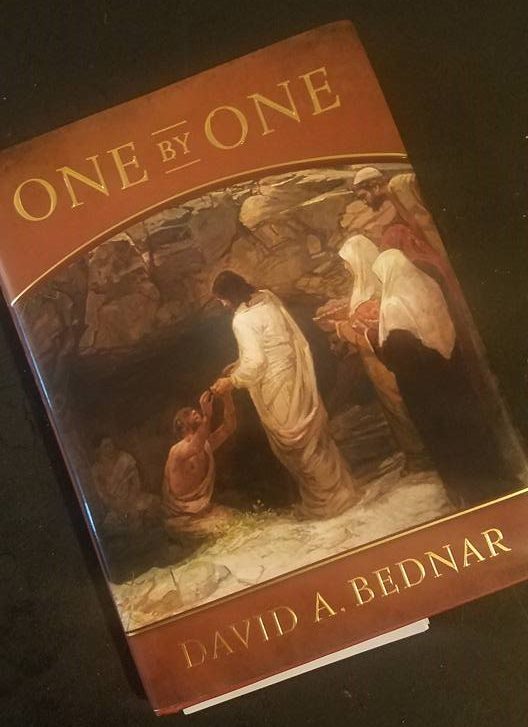 I know that I am not the only one who has thought about the question "Do I really matter to God?" That is a question Elder Bednar sure answered for me in his new book One by One.
One by One not only helped me to answer that question for myself but he took it a step further and helped me better understand my calling and the needs of my Primary kids. I was called as the ward Primary President 4.5 years ago. These past 4+ years have been so fulfilling, but I also feel like I am not done yet. There is still so much work to do within our Primary and there always will be. At times I am burdened because my list of inactive children is so long and daunting. I want to reach out to them all beyond the yearly birthday cards and letters I mail out to the children I have yet to meet. I have such a testimony of the gospel and of Primary itself that I want to share it will all of those wonderful children. For 4+ years I have prayed to see those children's smiling face's in primary along with my active children. However meeting ALL of them is not the case and sadly probably never will be. This book really helped me to realize that I can make a difference, One by One. All it takes is one child at a time, one touched heart to change. The influence of just one child can be long reaching.
Since reading this book I have started to utilize that theory in my day to day life with my calling. Yesterday I sat with the Elder Missionaries in my ward and told them about all the children that had been on my mind recently. We have plans to meet with each of the focus children and their families, One by One in the next few weeks. I am so excited to see where this takes me next in my calling!
Another thing I took from David A. Bednar's book One by One is that there are no coincidences in life. The worth of souls is great to our Heavenly Father and he puts us in the path of these people for a reason. When we meet people in line at the movies, when we pass them walking down the street or even meeting the teachers, parents or kids in our child's classrooms. We are put in those places, in those situations for a reason. We must at ALL times be their examples. We must at all times be ready to give wise counsel and keep our eyes open for opportunities to give acts of service.
These are just a few things I took away from Elder Bednar's book that I took note of in my Spiritual Journal. I am sure that my experiences will be different then some. However ALL of us have an opportunity to learn and grow when reading One by One.
To help you along I also love how David A. Bednar broke each chapter down into nicely put together sections. There is a chapter for the Bible, Book or Mormon and even leaders and how they focus on One by One. I also loved the questions at the end of each chapter which really helped me to put some things with my life and my calling into perspective! Such a wonderful book to have in my arsenal. I truly hope all of you give it a chance as well!
What questions do you have or what do you hope to gain from this book? I'd love to know!
Happy Reading!