Rice Krispies Golf Ball Treats!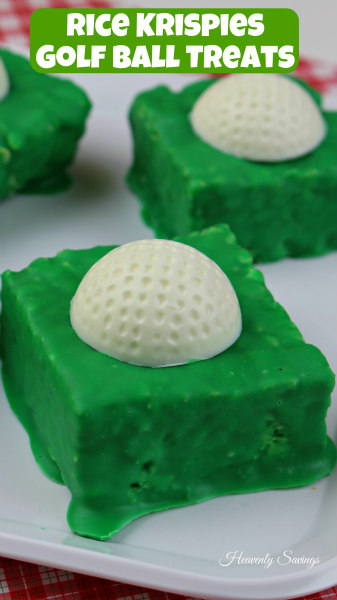 I am excited for Fathers Day this year. Not only is my little brother getting married that week but for the first time in a long, long time all of my brothers and I will be with our Dad. To make it even more special I will also be able to spend it with my husband and two daughters! We are going to have a blast in Salt Lake City together and plan on going to Lagoon which is my husband and daughters favorite place next to Disneyland!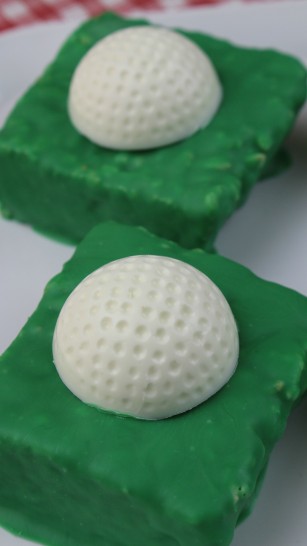 I am blessed to have an amazing Dad. I can remember doing so many fun and wonderful things with him. One of which was golfing. He started this hobby when I was finishing up high school. It was fun to be able to hit the green with my Dad and spend that time bonding. I have not been able to golf with him in several years as I moved away from home  8 years ago and just have not made the time to go golfing since..but these treats really make me want to make the time to do it again and I can't wait.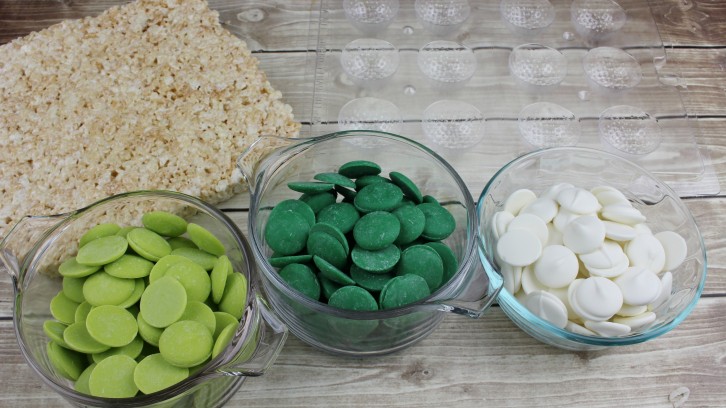 This recipe will yield 1 dozen Rice Krispies golf ball bars from a 9×9 pan:
INGREDIENTS
1 cup (2 sticks) butter
Two 10 oz. bags of marshmallows
10 cups Rice Krispies cereal
1/4 teaspoon salt (optional)
1 cup Wilton white chocolate melts
1/2 cup Wilton dark green chocolate melts
1/2 cup Wilton lime green chocolate melts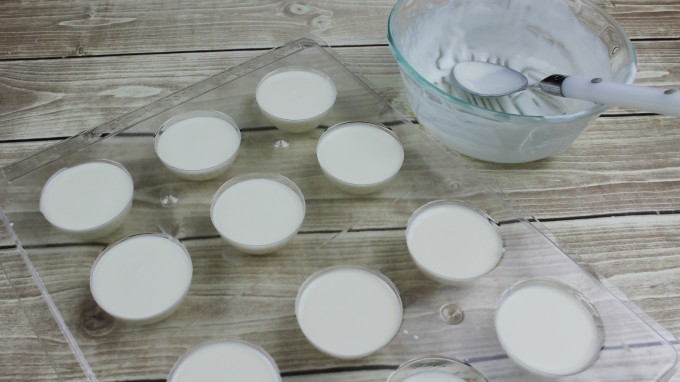 DIRECTIONS FOR RICE KRISPIES
1.   Spray a 9×9 pan with a non stick coating spray and set aside.
2.   In a large sauce pan, melt the butter over low heat.
3.   Add the marshmallows, stirring constantly until melted.
4.    Remove from heat and stir in the cereal and salt (optional)  until well-coated.
5.   Transfer the cereal mixture to the prepared pan and press down firmly.
6.   Cool for at least 30 minutes.
7.   In a double boiler, melt the white chocolate melts. Let cool for 1 minute.
8.   Pour the melted white chocolate into the golf ball molds and refrigerate for 30 minutes.
9.    Line a cookie sheet with wax paper and set aside.
10.  In a small microwave safe bowl, add the dark green chocolate melts.
11.   Microwave for 45 seconds and stir until melted.
12.  Once the golf ball molds have hardened, dip 6 of the Rice Krispies bars into the melted dark green chocolate to coat evenly. Place the chocolate coated bars on the cookie sheet and immediately place a white chocolate golf ball on top of each bar. Let the bars "set" for 30 minutes to allow the chocolate to harden.
13.  Repeat steps 10-12 using the lime green chocolate melts.
14.  ENJOY!!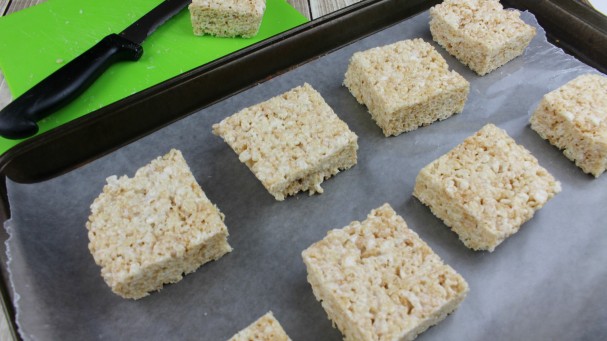 I am excited to make these treats for our trip over to the wedding. I am planning on making a big plate of them for my Dad and Husband. We are all staying at the same hotel so these would be easy to make and take with us. My husband is not much of a golfer…so these will be for taste only on his part. As for Fathers Day he can't wait to hit up a Salt Lake City Hobby Shop. He is in "desperate" need of RC Rock Crawler parts…or so he says. At least the RC Rock Crawler gets him (and our daughter) off the couch and out hiking. I guess that is a win, win for the both of us!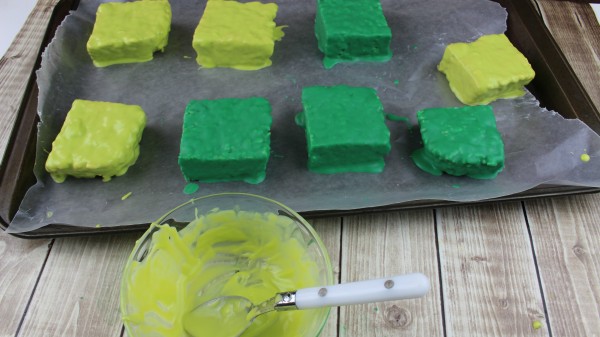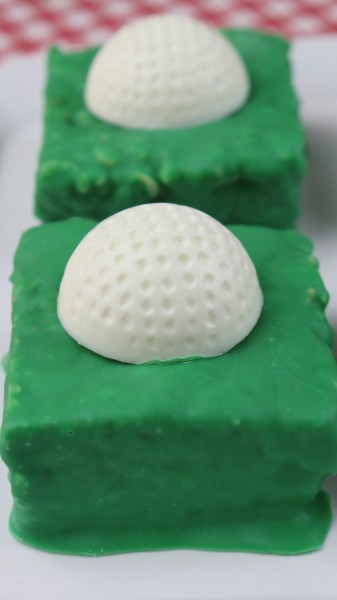 Do you have any great Father's Day plans or traditions? What is/was your favorite thing to do with your father?