Strawberry Glazed Strawberry Bread Recipe
It is almost Strawberry season here in Colorado. I can see the the white buds starting to appear. I can't wait! I love fresh strawberries and I use them in almost everything all summer long. From smoothies to salads they are one of the most universal fruits that I know of!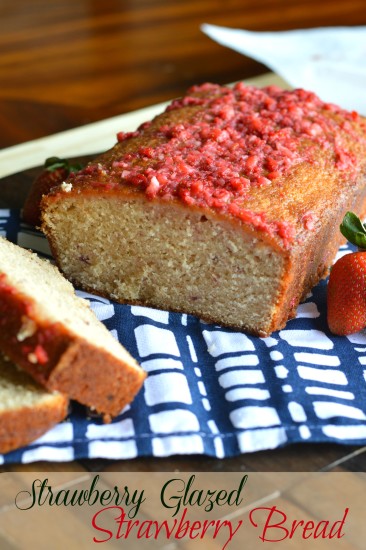 Ingredients 
12 table spoons of butter (1 1/2 sticks of butter)- room temp or melted.
2 1/3 cup of Granulated sugar 
3 Large Eggs
1/2 cup of finely chopped strawberries (Can be done in a blender of food processor)
2 3/4 cup of flour
1 teaspoon of baking soda
1/2 teaspoon of baking powder
A pinch of salt
3/4 cup of strawberry puree (Can do this in a lender or food processor)
3/4 cup of strawberry Greek Yogurt
1 tea spoon of vanilla 
1/8 tea spoon of strawberry flavor if you want it to be more strawberry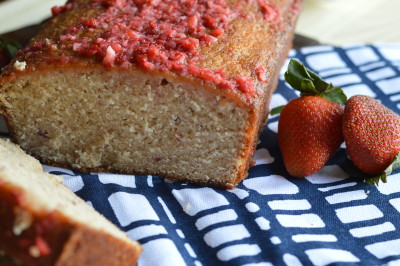 Directions
Preheat over to 350 degrees. (Makes two loafs- Use two loaf pans) 
First start by mixing your dry ingredients together. Mix The Flour, baking soda, baking powder, and salt together. Set that aside for now. 
Then in your mixer, mix the sugar, eggs, and butter together. Then add your vanilla and strawberry flavoring. Add your strawberry puree and strawberry greek yogurt in it. Now slowly add in your bowl you set aside in. Only have the mixer on low to avoid a huge mess. 
Once it looks well mixed, Stop the mixer and scrap all the sides down and mix up from the bottom of the bowl. Then run on your mixer for another minute or two. Then pour into you greased loaf pans. Bake for about 45 minutes or until your toothpick comes out clean.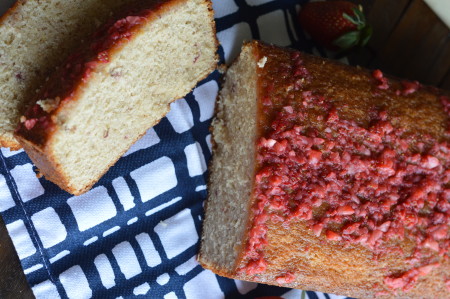 Strawberry Glaze
2 cups of powder sugar
1/2 cup or strawberries finely chopped
1 table spoon of water or strawberry puree (Add another table spoon if it is to thick)
Once your loaf is cooled down- drizzle your strawberry glaze over the top of it. Chill in the fridge and enjoy!