** I was provided with a copy of this title for the purpose of this review. However my own opinion was used and not influenced in any way.
Chicken Soup for the Soul Merry Christmas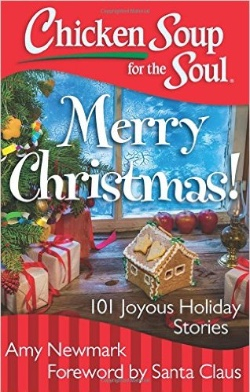 Christmas is the best time of year. People seem to be more friendly and helpful. They have joy and magic in their hearts and things just seem to be more peaceful. I love this time of year and the uplifting movies and stories that go along with it. This year I was so happy to read Chicken Soup for the Soul Merry Christmas. There were so many stories that uplifted me and really helped to get me in the Christmas Spirit. I also enjoyed reading many of these stories out loud with my daughter. We started reading one each day in December to help get us in the mood for Christmas. It was such a special way to start our days. Thanks Chicken Soup for the Soul! We love this book!
On The Back
The elves at Chicken Soup for the Soul have done it again, with a fabulous collection of holiday stories filled with all the joy, wonder, and inspiration of the season! ~ Santa Claus
101 Joyous Holiday Stories for a Merry Christmas Season!
Anyone who loves this special time of year will enjoy these heartwarming and entertaining stories of family bonding, holiday hijinks, the joy of giving, community spirit, and family and religious traditions.
You'll laugh out loud at some stories; others will make you tear up a little. They'll all leave you smiling and eager to share the holidays, filled with new ideas and enthusiasm for this special time of year.
And we don't forget Hanukkah either, with plenty of stories about the whole holiday season, from Thanksgiving through New Year's. There's something for everyone in these joy-filled pages.