** I was provided with a copy of this title for the purpose of this review. However my own opinion was used and not influenced in any way.
Disney's Sheriff Callie's Wild West!
 My Thoughts
This is the first time I have heard of or seen Sheriff Callie's Wild West. I was so thrilled to be able to share this new animated cartoon with my kiddos. I also love that she is a member of the Wild West as my kids think they are cowboys/cowgirls!
Sheriff Callie is all about girl power as she works hard to keep her town safe and take down the outlaws. Alongside her friends Peck and Toby you will be able to watch Sheriff Callie learn many lessons and teach a few as well. Kids will learn about courage, fairness, bravery and honesty. I love how the kids will be learning important life lessons and skills while being fully entertained with great story lines and characters! This is a show the whole family will enjoy.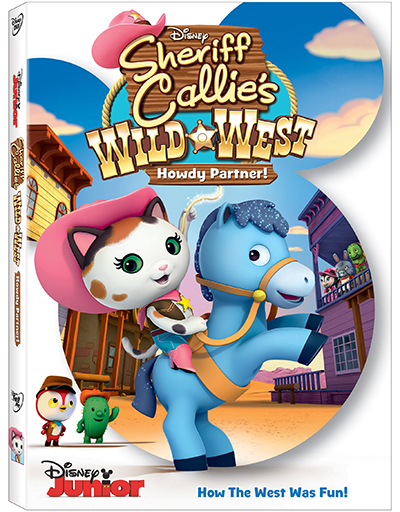 On the Back
Yippee-ki-yally! For the first time ever, Sheriff Callie's Wild West gallops onto DVD with five fun-filled episodes!
Welcome to the frontier town of "Nice and Friendly Corners," where lovable Calico cat Sheriff Callie is the bravest, kindest leader to ever roam the West! Together with her trusty horse Sparky and sidekicks Toby the actus and Deputy Peck the woodpecker, Callie comes to the rescue and lays down the law. And with each musical adventure, learn important lessons about fairness, honestly and good morals. It's the perfect mix of good ol' friendship and laughter for your little one!
Episodes: 
Train Bandits/ A Dirty Dusty Apology
Sparky's Lucky Day/ Peck's Bent Beak
Toby The Cowsitter/ Callie's Blue Jay Blues
The Pie Thief/ Fool For Gold
Moustache Toby/ Doc's Cheatin' Chili