** I was provided with a copy of this title for the purpose of this review. However, my own opinion was used and not influenced in any way.
Chicken Soup for the Soul Raising Great Kids
Raising kids is one of the hardest things I have ever done. It is not easy being a parent and coming up with discipline methods, knowing when to discipline and when to hold your tongue. It is also not easy to teach kids the important things like stranger danger, being kind to others, staying positive asking for forgiveness or forgiving those who have hurt you. Thank goodness Chicken Soup for the Soul wrote this inspiring book to help me along my journey of parenting. Plus this book really helped to comfort me and show me that I am not alone and as long as I do my best my kids will turn out just fine!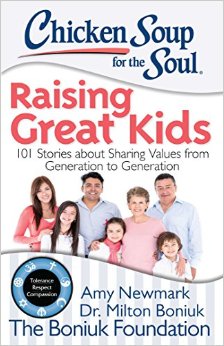 On The Back
We all want to give our kids the best possible start in life, and that means sharing our values with them. Parents and grandparents teach children to become the best they can be by raising them in an enviroment of tolerance, respect, compassion, and kindness. Inside you'll find inspiring stories that will help you:
– Be a Role Model
– Make Time for Togetherness
– Be an Advocate for Acceptance
– Be Kind to Strangers
– Encourage Independence and Responsibility
– Stay Positive
-Use the Power of Forgiveness
– Think Outside the Box
– Learn from the Next Generation