** I was provided with a copy of this title for the purpose of this review. However, my own opinion was used and not influenced in any way.
Disneynature Monkey Kingdom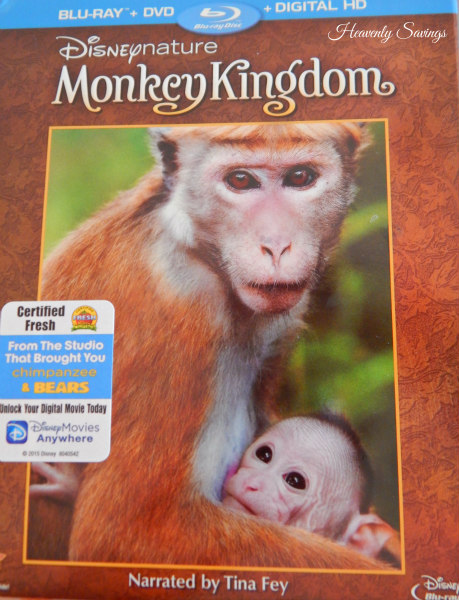 I look forward to every single Disneynature film that is released. Recently I was able to watch Disneynature's Monkey Kingdom with  my family. This is another great Disneynature film that will pull you right into the lives of beloved animals. It was neat to see the characteristics and lifestyles of these Monkey's. They are a neat animal that lives by a class system that I never knew about. I learned about how the "lower" class of Monkey's live and how it actually benefited Maya in the end. Such a neat and uplifting story. I loved watching Maya as she defeated the odds and raised her son Kip the best way that she possibly could. It did not matter if it was in the Jungle or in the City. She is a great Mom!
Disneynature Monkey Kingdom is a show that will not only educate you but will also pull at your heart strings. I also love knowing that Disneynature will donate to help save the Monkeys on my behalf just for purchasing this movie. In fact the movie opened up with a blurb about how much has been donated for each Disneynature movie title and where the money has gone. It is so inspiring to know that these films are not only bringing us into the lives of these beautiful animals but it is also helping in all ways that they can. I fully enjoyed this movie and I can't wait to see what Disneynature comes up with next!
On the Back 
From Disneynature, the studio that brought you Chimpanzee and Bears, comes Monkey Kingdom, a spectacular tale set among ancient ruins in the storied jungles of South Asia. Maya, a clever and resourceful monkey, finds her world forever changed when she welcomes her son Kip into her colorful extended family. As Maya strives to keep Kip safe through unexpected and sometimes perilous adventures, amazing footage captures all the magic and surprises of their magnificent world. Maya and her family will make you laugh and warm your heart as she realizes her dreams for her son's future.
Bonus Features:
Tales from the Kingdom – See what it takes to capture this amazing adventure on film.
 On The Set Of Monkey Kingdom With Jane Goodall and Wolfgang Dittus – Visit the irresistible macaques in their remarkable kingdom, and get inspired to protect earth's wild habitats.
Disneynature Monkey Kingdom: The Conservation Story – Discover how conservation efforts are helping people and wildlife coexist.
"It's Our World" Music Video Performed By Jacquie Lee
A Special Thank You From Disneynature