** I was provided with a copy of this title for the purpose of this review. However, my own opinion was used and not influenced in any way.
Why We Live Where We Live By Kira Vermond
I am so thrilled to have found another great home school book. Why We Live Where We Live breaks down everything around us. Our Electricity, Water, Food, Economy and more. It will give the kids a back ground into how the cities got started and how they expanded. How immigrating can give you a better life and how to plan a city. This book is packed full of information that the kids will love to read and learn about. So do you know why you live where you live? I mean really….why is it there? In that house, town, city, county, state, country? Why?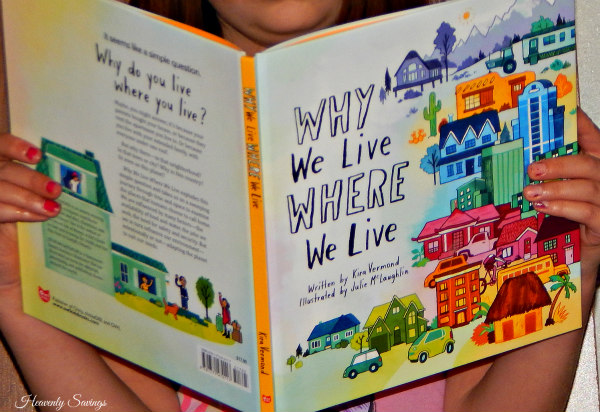 On  The Back
It seems like a simple question.
Why do you live where you live?
Maybe, you might answer, it's because your parents bought your house, or because they rent the apartment you live in. Or because you live with your extended family, with everyone under one roof.
But why there – in that neighborhood? In that town or city? Why in this country? Or even on this planet?
Why We Live Where We Live explodes this simple question and takes us on a sweeping journey through time and space to examine the places that humans choose to call home. We are influenced by many factors – the availability of food and water, the job we seek, the need for safety and security. But we in turn influence our environment – intentionally or not – adapting the planet to suit our needs.