Thank you to HERDEZ® Brand for sponsoring today's post and inspiring me to further celebrate Día del Niños!
 Celebrate Dia del Nino with a Taco Supreme Casserole!
Dia del Nino (or Day of the Child) is right around the corner. This year my daughter asked if we could spend the day hiking together. My daughter and I love hitting the trails and try to go hiking at least once a week. It is a great way to get my family off the couch and doing something together. Recently my husband built a RC Rock Crawler that he takes on the trails with us and this year we are going to surprise my daughter with her own on Dia del Nino….shhh don't tell her. 😉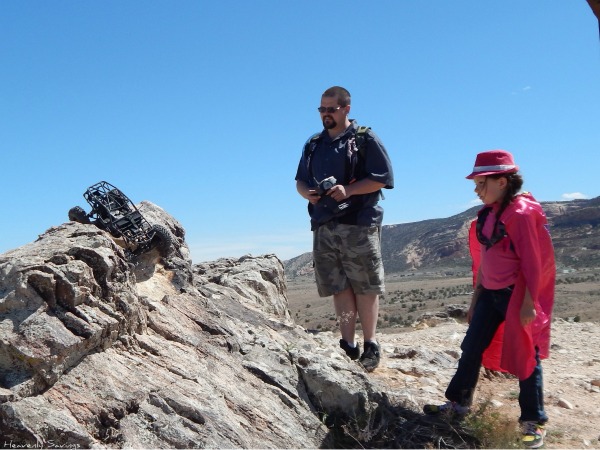 After our hike we will come home and make my daughters favorite dinner. She absolutely loves my Taco Supreme Casserole. It has a mixture of all of her favorite foods right into one casserole dish! Yum! Plus she is now old enough to help me make every aspect of this dish.
I love cooking with my daughter. It is a time spent together that I cherish. I want her to know how to run her own household one day and a huge part of that will be cooking for her family. She loves to see how things are cooked and put together and in the past has even come up with some of  her very own recipe ideas. I have always let her cook them….but lets just say that some of them have been completely inedible! But, she is starting to get the hang of flavor combinations as the years go by.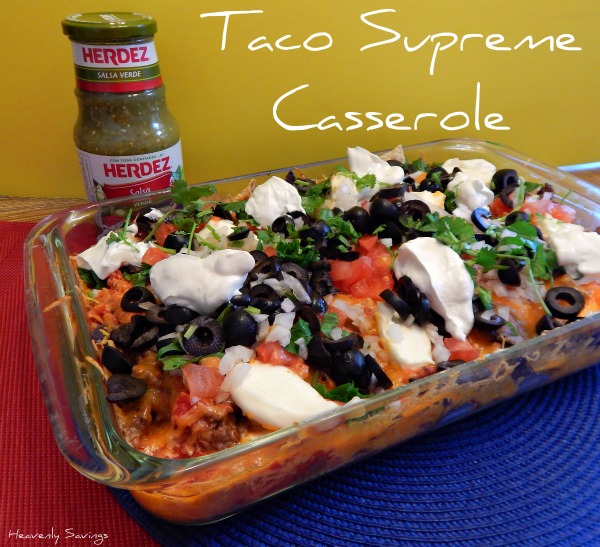 I came up with this Taco Supreme Casserole idea because of my daughter. She is a very picky eater and every time I made authentic Mexican she would tell me it was too spicy and she did not like it. I could not even get her to take a bite if she seen any type of red or green sauce over something. Even tacos were hard for her because she did not want to eat the shell or it had too much lettuce. But, one day I caught her eating refried beans, chips, salsa, olives and sour cream together. I told her "you are basically eating a taco right now. She laughed it off and said "No way Mom..this stuff is actually good." With that being said I asked her to help me make dinner that night. I pulled out some chips, refried beans, the HERDEZ salsa she was eating earlier, olives, sour cream, cheddar cheese and made some Taco meat. I asked her if she would be willing to help me put it all together into a casserole. She liked the idea and said "As long as I don't see is smothered in red or green sauce I might be ok with it." So she helped me and gave it a try. She absolutely loved what we came up with. That was about 3 years ago. Now we have expanded upon this casserole recipe and added even more favorite ingredients. Because of this casserole she has also branched out and now loves all authentic Mexican food…except Menudo… I am still alone in that one.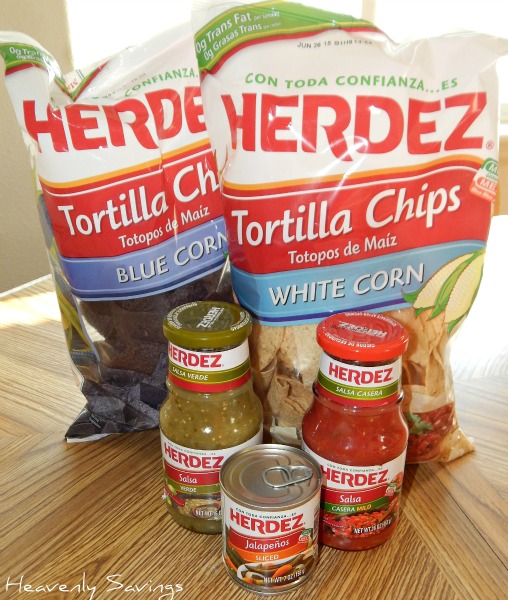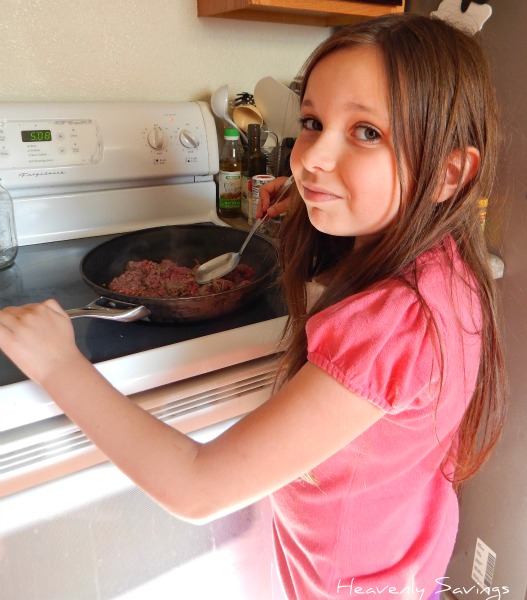 Ingredients:
1 lb cooked Taco Meat or Hamburger
HERDEZ Tortilla Chips
1 16oz Can Refried Beans
HERDEZ Salsa of choice
1 lb Shredded Cheddar Cheese
8 oz cream cheese
Toppings:
Diced Tomato
Diced Onion
Diced Black Olives
Diced Cilantro
Sour Cream
HERDEZ Salsa
HERDEZ Jalapenos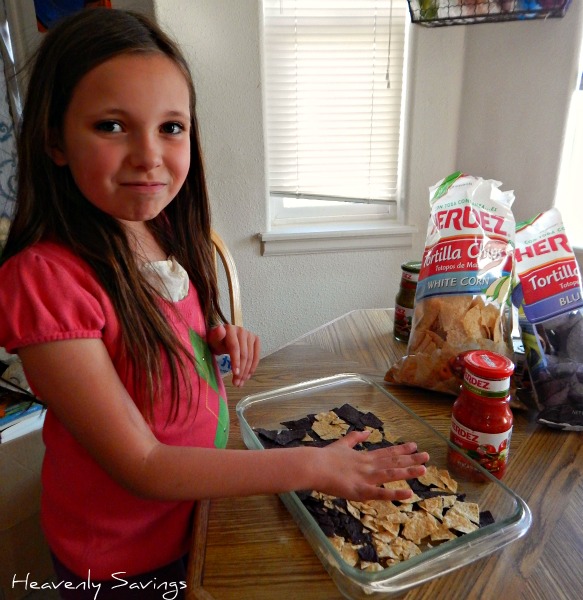 1. Preheat Oven to 350 degrees.
2. Layer HERDEZ Tortilla Chips at the bottom of a 9×12 Casserole Dish. Smash the chips flat (this is a great job for the kids).
3. Layer 1/2 Taco Meat, 1/2 Refried Beans, 1/2 HERDEZ Salsa, 1/2 Cheddar Cheese and 1/2 cream cheese.
4. Press ingredients down into pan.
5. Repeat Layers.
6. Bake in Oven until cheese is bubbly and melted (about 20 Minutes).
7. Top with Diced tomatoes, onions, black olives, Cilantro, HERDEZ Salsa, HERDEZ Jalapenos, Sour Cream.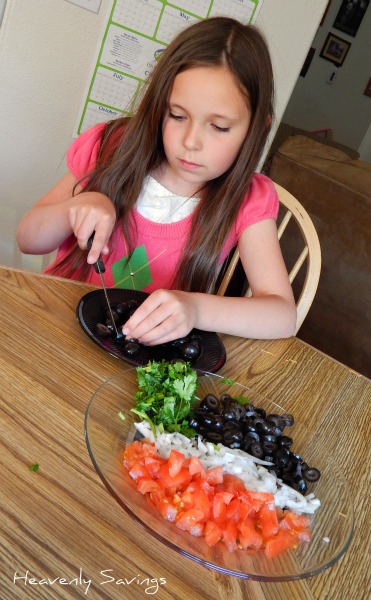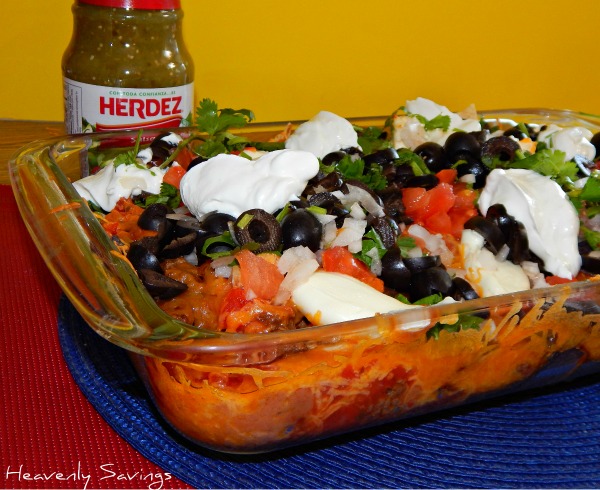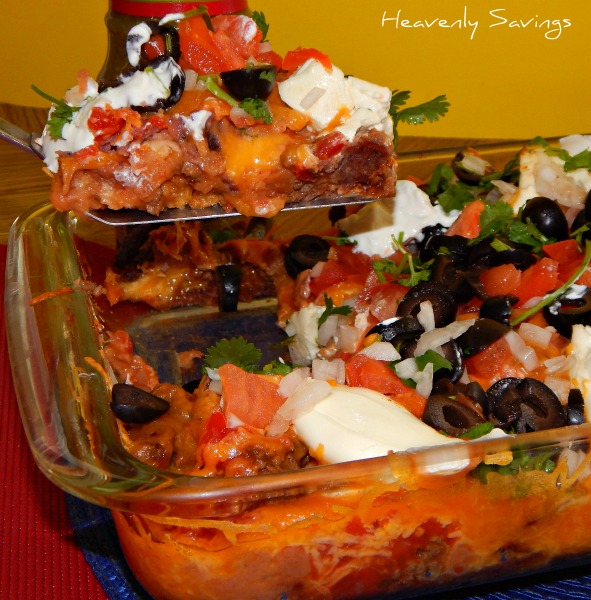 To help you celebrate Dia del Nino HERDEZ brand is hosting a #TrowbackThursday photo contest where YOU can win! Just head on over to the
HERDEZ brand facebook page
. You can upload your pictures from April 6th-April 30th. Each week there will be three winners drawn to win a
Dia del Nino prize package
. Plus one Grand Prize winner each week will win a socialmatic camera, film, HERDEZ product, HERDEZ apron and recipe cards. Two runner ups each week will win a selfie stick, HERDEZ product, HERDEZ apron and recipe cards! Sounds fun huh?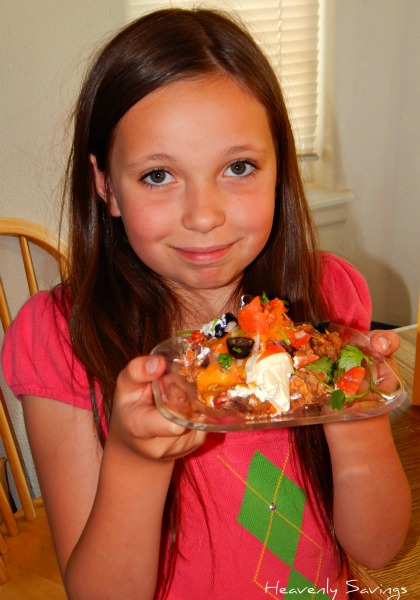 How  are you planning on celebrating Dia del Nino?