This shop has been compensated by Collective Bias, Inc. and its advertiser. All opinions are mine alone.
Ultimate Meat & Potatoes Breakfast Burrito with Tabasco Sauce!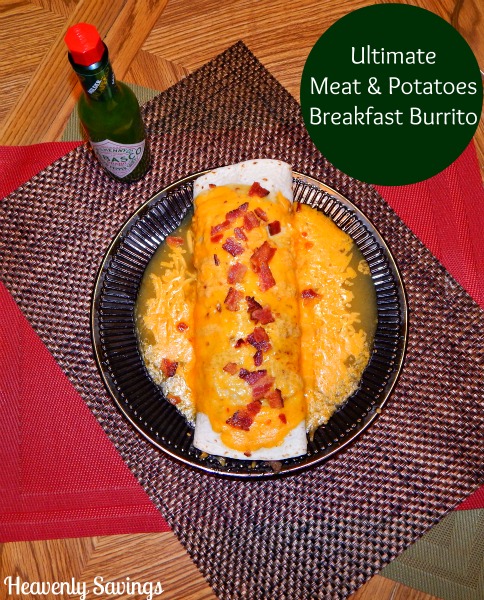 There is nothing like waking up to an amazing breakfast on Christmas morning. For the past few years my husband has woke up early to make sure that his Ultimate Meat & Potatoes Breakfast Burrito is finished by the time we all wake up. This is a tradition that each of us have begun to look forward to as the years go by. They are amazing burritos and the green sauce and bacon on top are as festive as my husband will get with the "red and green" #SeasonedGreetings contrasting colors. Thanks to Tabasco and #CollectiveBias I am going to share my husbands amazing holiday party recipes with all of you!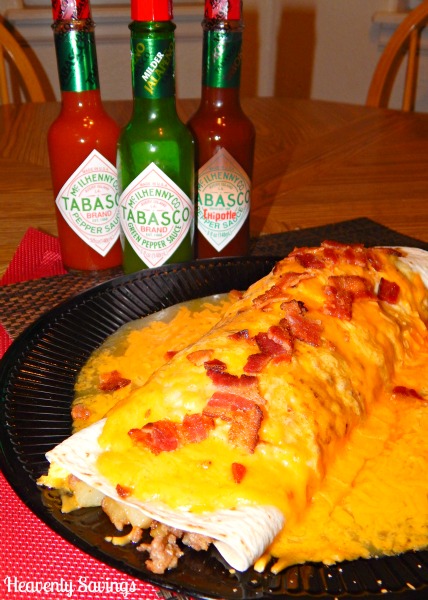 Ultimate Meat & Potatoes Breakfast Burrito
Ingredients:
3 Large Potatoes Diced ( about 3 cups)
2 Tbs Olive Oil (optional)
1 lb Pork Sausage
1 lb Bacon
8 Eggs
4 Tortillas
2 Tbs Garlic Powder
1/4 + 2 Tbs Cup Green Jalapeño Tabasco Sauce
1 Tbs Lemon Pepper
1 Tbs Onion Powder
2 Cups Green Enchilada Sauce
3 Cups Shredded Cheddar Cheese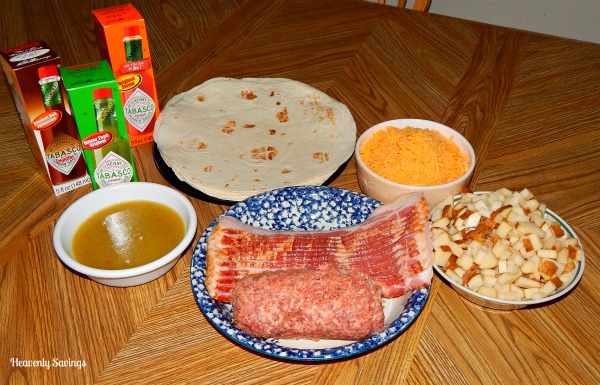 Directions:
* You can cook the bacon, eggs and sausage in different pans. But if that is not possible for you I have listed step by step instructions.
1. Cook bacon as directed on package and set aside. Drain bacon grease out of pan into a heat safe container. (like an empty tin can)
2. Brown Pork Sausage in skillet on medium heat about 8 minutes or until done. Stir frequently. After sausage is brown add 2 Tbs Green Jalapeño Tabasco Sauce. Remove from pan and set aside.
3. At this point there should be some left over grease from the sausage to cook the potatoes. If not then you can add the Olive Oil to help you brown potatoes. Brown potatoes on medium heat about 13 minutes or once potatoes start to become soft. Cook another 3-4 minutes and as they cook begin to add garlic powder, lemon pepper and onion powder. During the last minute stir in the 1/4 Cup of Green Tabasco Sauce. Add cooked pork sausage and mix well. Remove from pan and set aside.
4. Scramble eggs in skillet on medium heat until done.
5. Assemble burrito by placing a tortilla on a plate. Add potato/sausage mixture, two slices bacon, and about 2 of the scrambled eggs to middle of tortilla. Roll up and place both folds of the burrito together on the bottom.
6. Smother the top of the burrito with 1/2 c Enchilada Sauce and 1/2 Cheese.
7. Melt cheese under broiler or in microwave.
8. Top burrito with one more slice of bacon crumbled and more Green Jalapeño Tabasco!
9. Eat and Enjoy!
(serves 4-6) – The way my husband makes them they serve 4….BUT you could defiantly cut down on the amount you place in the burrito and get a couple more out of the ingredients!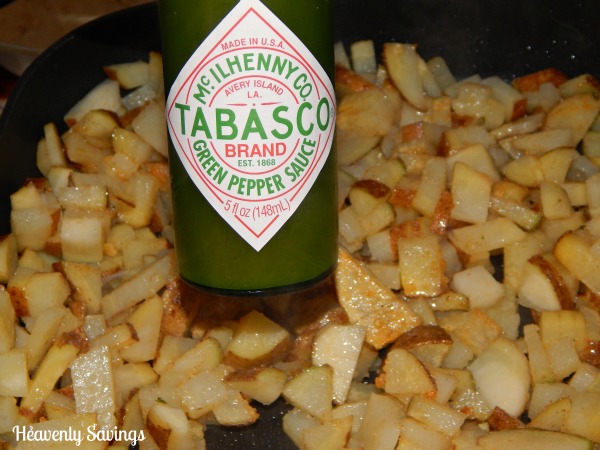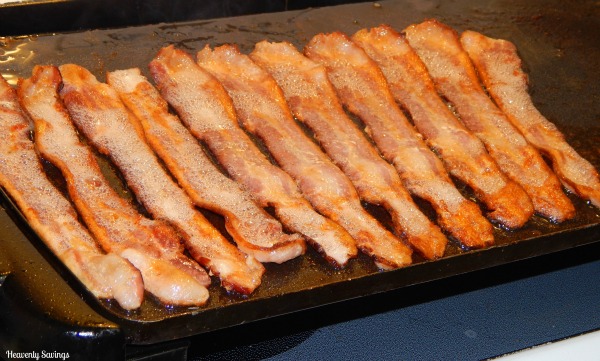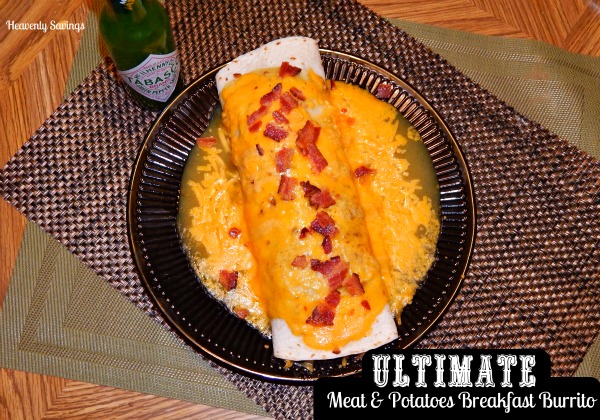 Why Green Jalapeño Tabasco Sauce? For years this has been my favorite sauce. I love the mild and savory jalapeño flavor. There is not too much heat but enough flavor to dress up any meal. I have used this flavor of Tabasco sauce for years in my burritos, on popcorn, and on smoked oysters. It is so yummy! Plus it is easy to find Tabasco at your local grocery retailers! I was able to find mine at my local Sprouts Farmers Market store!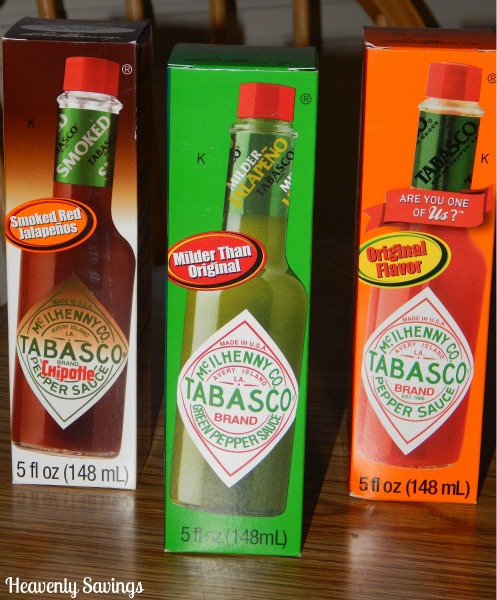 So this Christmas if you are looking for a breakfast that is sure to please then give these Ultimate Meat and Potato Breakfast Burritos a try!