** I was sent a copy of this book for the purpose of this review. However, my own opinion was used and not influenced in any way.
Duck Dynasty Si-Cology 1 – Autographed Copy Review & Giveaway!
Giveaway Ends 9/17/14!
We are a house full of Duck Dynasty fans! We have watched them from the beginning. It is so nice to see a family who has morals and values. A family who is not afraid to show the world that they love the Lord. I love to see them take a stand for their belief's and to see them sit around the dinner table as a family after every episode and pray. It is simply beautiful! Ok…and they funny jokes and antics of the men makes it worth watching as well!
Recently I received something amazing. Something that I never, EVER thought I would get! An AUTOGRAPHED copy of Si's book Si-Cology 1! Autographed!!! Ok..I am a little excited! Did I mention that Si actually SIGNED this book?? WOWZA! Plus to make it even better there is an autographed copy waiting for one of you as well!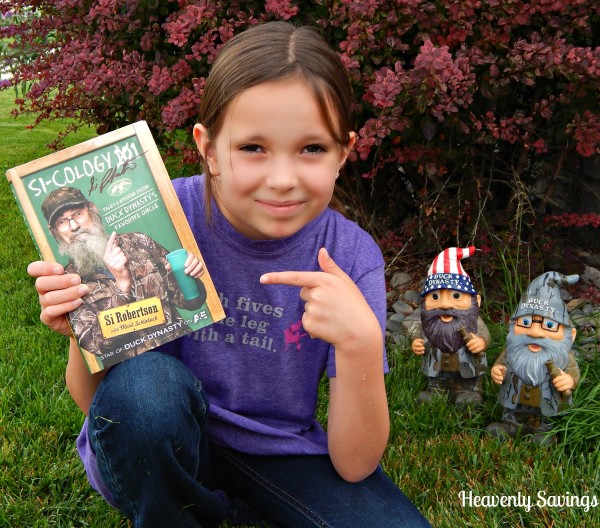 The Si-Cology 1 book is exactly what you would expect from a Robertson. It was a joy to read about the home life and family values. Oh and of course some of Si's Si-isms was planted into each page. It was a great read that had me laughing and learning. I loved reading about what life was like for Phil and Si growing up. Boy did they have some fun adventures! This really is a great family to read about! Truly inspirational!

On The Back
Everyone's favorite uncle  – Uncle Si from Duck Dynasty – claims that all his stories are 95 percent true, but even that may be a stretch. However, there's something about those stories that keeps fans and friends alike coming back for more. And this laugh-out-loud book has plenty more.
As Uncle Si recounts his outlandish tales, he weaves in an up-close look into his personal life. In this riotous yet personal book you'll discover all kinds of things:
– You'll read about his too-close-for-comfort interaction with an alligator.
– You'll discover details about his simple childhood in the backwoods of Vivian, Louisiana.
– You'll get insights into how this scrawny kid fared as the youngest brother of Phil Robertson, while they stomped the woods and evaded the neighbors whose land they were hunting and fishing on.
– You'll read the outlandish tales of his days in Vietnam, like how a tire was stolen off his jeep in the middle of the night while he was driving!
– You'll learn all about where he got his first ice tea glass.
– And you'll read about the marriage offers he has received.
Through old family snapshots, you'll see Si in his pre-beard days and you'll get to know Si's wife, Christine (yes, he is married), and his two children, Trasa and Scott. You'll also see the strength of Si's personal faith and how his Bible-based convictions have guided his life.
Most of all you'll find yourself laughing out loud at Si's somewhat true, always engaging, hilarious stories. And as Uncle Si would say, "Hey – you can take that to the bank, Jack!"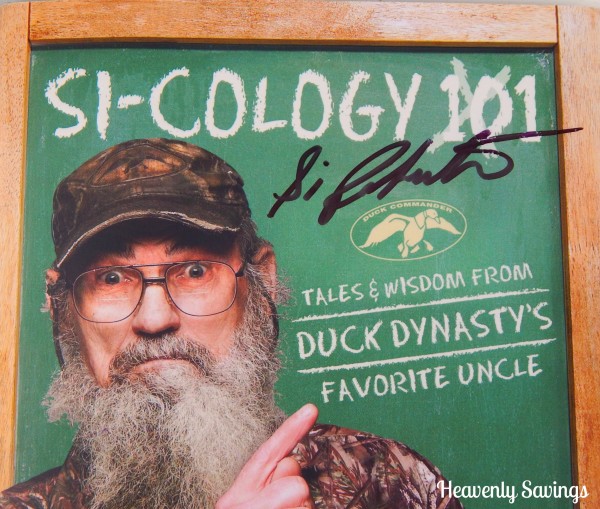 How would you like to win an AUTOGRAPHED copy of Si-Cology 1? I am happy to say that one lucky US reader will be able to do just that! Good Luck!