This shop has been compensated by Collective Bias, Inc. and its advertiser. All opinions are mine alone.
Orange Cream Jell-O Game day food AND Jell-O University Molds!
If you are an avid reader of my blog then you know that I am a huge football fan! As you probably know I am always trying to post about my favorite game day food! I love football season! I am always hosting parties for pro and college football games. This year I am #TeamJellO because of all their amazing Jell-O  University molds!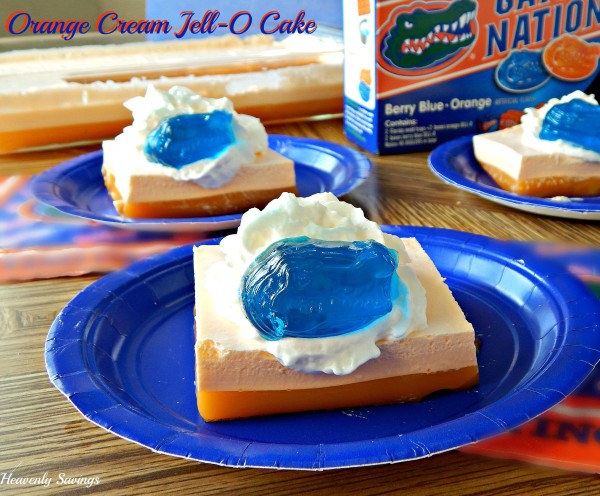 Recently I was able to host a party thanks to   #CollectiveBias in celebration of the Florida Gators! This was a pre-football party to celebrate the kick off of their season! They play their first game August 30!! I can't wait!
Ok so some of you might be wondering why I chose Florida Gators when I live in Colorado. Well that is because my step dad is from Florida. Also because my Mom and step dad had my 8 year old little brother together. My brother is a football fan just like me. He has watched the Florida Gators with his dad since he was a young child. It is so fun to see him during the games. He is a great little boy and very passionate about his team! He is the main reason I love to have Florida Gator's parties at my house!
Anyway for the party I decided to include lots of great items that were in the Orange and Blue Gators colors. This included Blue and Orange Jell-O. Especially because I seen these amazing Jell-O molds on Walmart.com. You can actually purchase Jell-O Molds in the shape of your favorite university teams mascot or logo! Can you believe it!! I am so thrilled!
For the party I opted for Orange Cream Jell-O topped with some whipped cream and a Blue Gator! These were a huge hit at my party! Not only because they tasted amazing….but because everyone loved the Gator at the top of each slice! I even had some party guests try to snag my awesome Jell-O molds before they left! Good thing I was watching . 😉 They will have to visit Walmart.com and get their own! PS If you want to get your own…there is also a $0.75 off coupon at Walmart.com!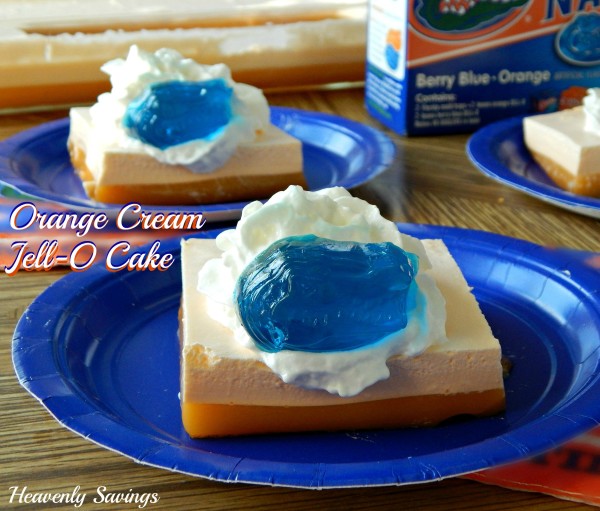 Orange Cream Jell-O Ingredients:
1 – 6oz package Orange Jell-O
4-5oz Whipped Cream
9×12 cake pan
canned whipped topping (for decoration)
Orange Cream Jell-O Recipe:
1. Prepare Orange Jell-O following Speed-Set method. But, as soon as it begins to thicken you will want to remove ice and add 4-5oz whipped cream. Stir until fully mixed.
2. Pour into 9×12 cake pan and refrigerate until firm (about 60 min.)
3. The whipped cream will automatically float to the top and harden up there giving your Jell-O a nice two tone Jell-O cake!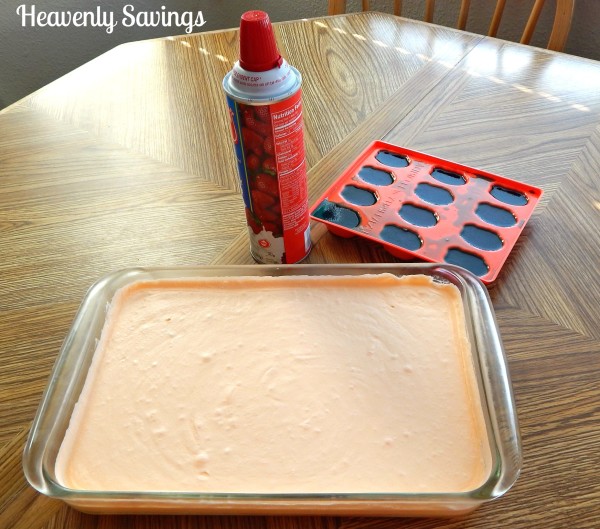 To Decorate Orange Cream Jell-O Cake:
Cut into squares and plate.
After each square is plated you will want to top each slice with some whipped topping out of the can and one Jell-O Gator!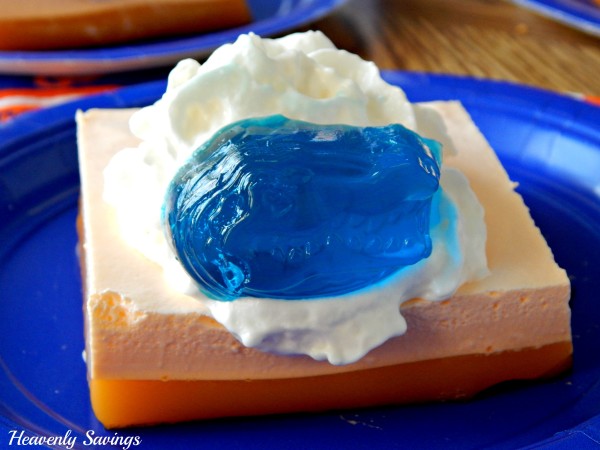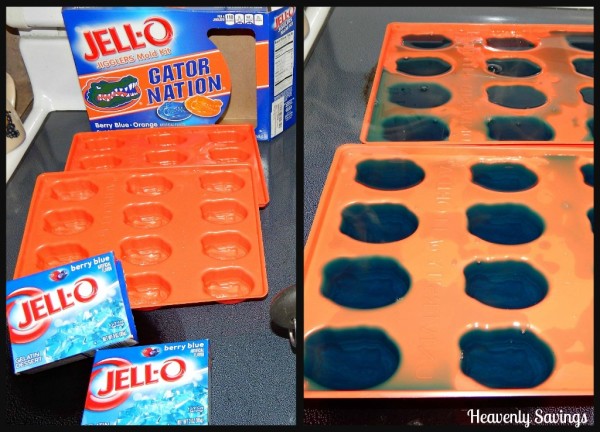 Hint: – Make sure you follow the Jell-O Jiggler instructions on the box to make the Gators! Don't forget to grease the Gator molds before you put the Jell-O into the molds. This will help them slide out easily without ruining the Gator's form! And/Or you can also run a toothpick along the sides of each Gator to get them to pop out when they are firm! Enjoy!
What is your favorite University team? Do they play my Gators this year??