** I was provided with a copy of this title for the purpose of this review. However, my own opinion was used and not influenced in any way.
Lego Ninjago Rebooted Battle for New Ninjago City Review & Giveaway!
Ninjago is another cartoon that my daughter loves. I remember the first time she seen it on t.v. She begged me to let her get her Lego's out so she could play Ninjago with my 8 year old little brother (her uncle). They are best friends and they do everything together.
For this review I decided that yet again my daughter would be the perfect one to let you know her thoughts on this movie!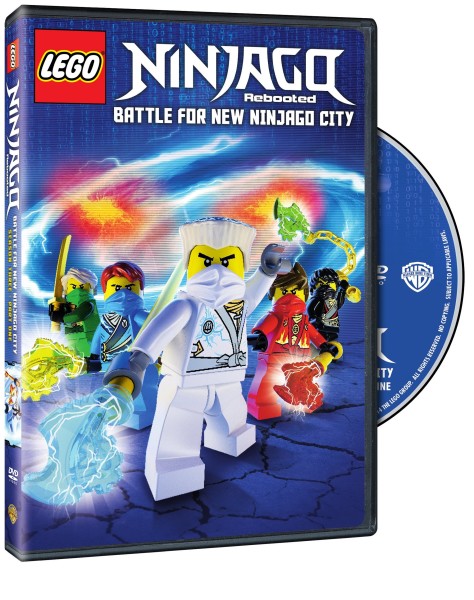 Ashes Thoughts (Age 9)
Zane and Cole have a new team mate. The Golden Ninja. But when Overload takes over new Ninjago city….he wants the Golden Ninja's power! Will the Ninja be able to stop him in time?  I first learned about Lego Ninjago from my Uncle D. He is 8. He showed me the t.v. show and I have watched it on Netflix ever since. I like Lego Ninjago a lot. I am a big fan because it is about Ninjas and they have dragons in it. I love dragons! I have always liked fantasy's with dragons.
On The Back
Victory in the Final Battle between the Gold Ninja and the Overlord has ushered in a new era of peace and begun a technological renaissance. Time has passed and the Ninja have become obsolete in this new hi-tech world. Just when they think all is safe in Ninjago, they're called back into action when the reclusive inventor Cyrus Borg warns them the Overlord has survived as a digital virus and is trapped within the Digiverse. The Ninja will learn the Overlord seeks to steal Lloyd's golden power to enable him to escape his digital prison and reign as the great prophesized destructor, "The Golden Master".

And to aid his villainous plot, he's created a new technological menace more powerful than any foe the Ninja have ever faced – Nindroids.
Episodes:
1. The Surge
2. The Art of the Silent Fist
3. Block Out
4. The Curse of the Golden Master

How would you like to win a copy of Lego Ninjago Rebooted? I am happy to say that one lucky US reader will be able to do just that! Good Luck!