** I was provided with a copy of this title for the purpose of this review. However, my own opinion was used and not influenced in any way.
Scooby-Doo Franken Creepy DVD Review
As you all know my daughter loves Scooby-Doo. He has been her favorite cartoon character since she was a toddler and her Uncle Travis gave her a Scooby-Doo stuffed toy. That is why I thought it fitting for my 9 year old daughter to write up a review about Scooby-Doo Franken Creepy for you all to read! Plus this can count toward her Composition school work for the day! Enjoy!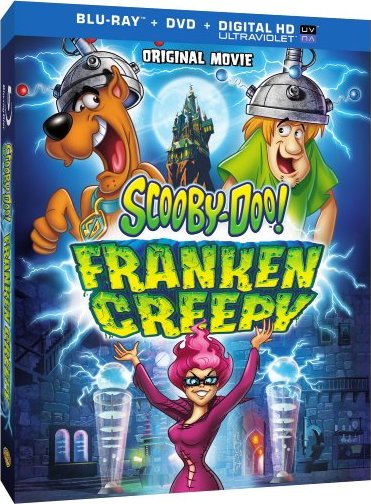 Ashes Thoughts (age 9)
Scooby-Doo Franken Creepy is a cool cartoon with lots of surprises in store. Velma's ancestors pasted on this weird curse. Velma got hypnotized and she completely lost her mind. After that she started doing some weird laboratory stuff and she was like a mad scientist. Meanwhile Shaggy and his pals embark on a new adventure. This hysterical movie will show you Velma losing her mind, Scooby & Shaggy losing their fear….and their hunger. You will also watch as Daphne finds her way into an inflatable dress and Fred loses his beloved mystery machine. Will the crew solve the mystery before Velma goes totally nuts and the monster destroys the town? You will have to watch and see if the crew can make it in time!
On The Back
Scooby-Doo and those "meddling kids" Shaggy, Fred, Daphne and Velma are back in this all-new original movie! Velma discovers she's inherited her great-great-uncle Dr. Von Dinkenstein's cursed castle in the terrifying town of Transylvania…Pennsylvania, that is. Just when the gang persuades Velma to go claim her inheritance, the ghost of Von Dinkenstein Castle blows up the Mystery Machine as a warning! Now the crew must spring back into action, but this time it's personal! Who's responsible for the Von Dinkenstein monster? What family secret has Velma been hiding? Will Fred recover from the loss of his beloved Mystery Machine? Can any helpless snack survive Scooby and Shaggy's monster-sized appetites? This Scooby-Doo adventure has enough spooky fun to make the whole family come alive!