Chicken Chimichangas
Recently you might have seen a post on my facebook page asking for dinner ideas. I want to thank you all for your amazing ideas! Especially Alison who gave me a recipe idea that I could not pass up! I had never in my life made Chimichangas. To be honest I thought that they would be really difficult. But, after reading Alison's recipe with a few of my own variations, I knew I had to give them a try!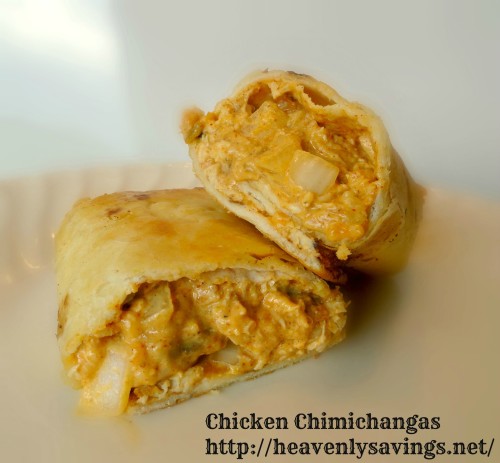 Ingredients:
8oz pkg. cream cheese
8oz. Mexican blend shredded cheese
1 packet dried taco seasoning
1 medium rotisserie chicken
12 flour tortillas 1 medium yellow onion diced 1 6oz can diced green chili's 1/4 c olive oil (for frying) or spray oil for baking  
Toppings:
shredded mexican blend cheese
sour cream
salsa  
Directions:
1. Stir together cream cheese, Mexican blend cheese, green chili's, diced onion and taco seasoning.
2. de-bone rotisserie chicken into bite size pieces.
3. Mix together on medium speed with mixer until ingredients are well blended.
4. Place a heaping spoonful of mixture into middle of each tortilla.
5. Tuck in sides and roll each chimichanga
Fried:
6. Heat up 1/4 olive oil in large skillet on medium.
7. Lay Chicken Chimichangas seam side down in hot oil and fry for 1-2 minutes per side.
8. Serve with extra shredded cheese, sour cream and salsa!
Baked:
6. Lay seam side down in a sprayed baking dish. Spray tops of tortillas with cooking spray.
7. Bake at 350 degrees for 15 minutes. Turn Chicken Chimichangas and spray tops again. Bake another 15 minutes until tortillas are a golden brown.
8. Serve with extra shredded cheese, sour cream and salsa!
Also don't forget to print out the great coupons that go along with this great recipe!
These Chicken Chimichangas turned out amazing! Since I was not only making these for my family I decided to double the recipe. I ended up with A LOT of left over Chicken Chimichangas which I wrapped and froze. My husband was so excited to be able to take Chicken Chimichangas in his lunches. He would just grab one out of the freezer every morning and eat it for lunch later that day! Such a great recipe that I am sure I will be making again and again!
Thanks Alison!