Mint Minecraft Creeper Rice Krispie Treats
It is no secret that Minecraft is taking the world by storm. It is a very popular game, especially among the kids. That is why I know that the kids will love this fun to make summer time treat! The kids will love to help you create the Minecraft Creeper faces and eat them! Yum!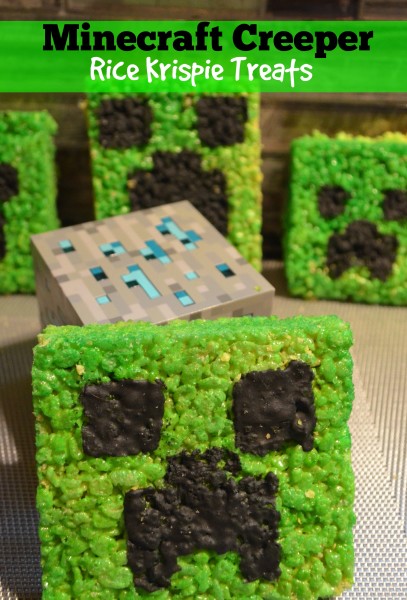 THINGS YOU WILL NEED:
Glass Baking Dish
Square Cookie Cutter
Frosting Bags
Frosting Bag Couplers
Frosting Tips
Rice Krispies
Green Food Coloring
Mini Marshmallows
Black Chocolate Melts
MINT RICE KRISPY INGREDIENTS:
3 Tbsp butter
10oz Bag Marshmallows
½ tsp peppermint extract
Green food coloring
5 cups crispy rice cereal
DIRECTIONS Melt butter over low heat.
Add marshmallows and stir till melted.
Add Food Coloring.
Add Rice Krispies and stir until well coated.
Lightly butter or spray a 9 x 13 pan with cooking spray. Using buttered spatula or wax paper, press Rice Krispie mix into prepared pan.
Cut into squares.
CREEPER FACE
Melt Black Chocolate Melts (Follow Directions on Bag)
Print & Cut out a Creeper Face
Place the melted candy melts into a pipping bag or squeeze bottle
Place a sheet of wax paper over the print out and draw/trace the face on the wax paper
Let the chocolate faces set and harden for approx 15 min
Peel the faces off the wax paper and place on top of the Rice Krispie Squares and your done!!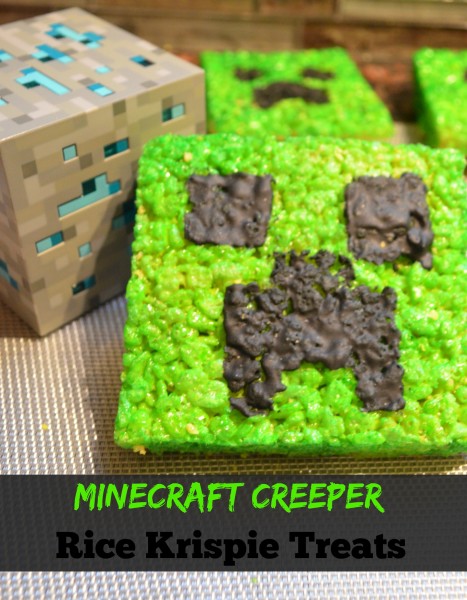 These treats are super cute and fun to make. You can't go wrong with Minecraft! Enjoy!