I was sent a copy of this title for the purpose of this review. However, my own opinion was used and not influenced in any way.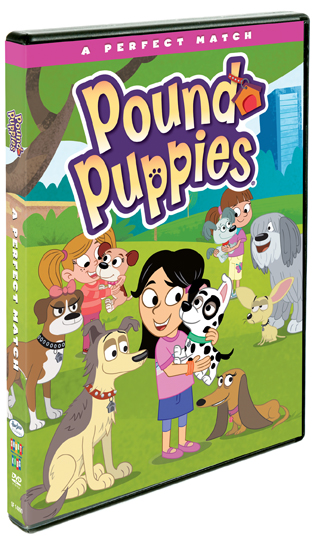 Pound Puppies A Perfect Match
My Thoughts
I remember watching Pound Puppies when I was a child. It was one of my favorite cartoons to watch. I also had some Pound Puppies books and a stuffed toy!
When I seen that they were coming out with Pound Puppies again I was thrilled! Since my daughter was old enough to talk she has told us that she wants to be a pet vet one day. She has a love for animals unlike anything I have ever seen before. With that being said she will do anything to watch, read about, or play with dogs! She loves dogs and I knew that she would love this adorable Pound Puppies A Perfect Match DVD!
The Pound Puppies are an amazing group of friends who team up to help out their Doggy friends. In this DVD you will meet lots of K-9 friends in need of a home…oh and a Kitten too!
On The Back
Not every puppy is perfect for every person, and the Pound Puppies are dedicated to making sure their furry friends end up in the right hands! But they find they have their paws full when a so-called "un-matchable puppy" finally finds his match – and loses him, a kitten named Spoons shows up to Kennel 17, a shy puppy ends up on a High Energy Scouts camping trip, a furless pup needs some TLC to bolster his confidence, and they have to investigate why a paper girl's deliveries are always late!
Episodes Include:
The Yipper Caper
Working K-9 to 5
Hello Kitten
Beauty is Only Fur Deep
No More S'mores