Disney's Frozen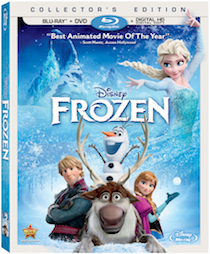 It is no secret that my family and I love all things Disney. My husband and I even went on our honeymoon to Disneyland. It was the first time either of us had ever been there and we vowed that we would go back…and we have! We even took our daughter there to celebrate her 7th birthday a few years ago! She loved it just as much as we did!
Recently Disney sent me a review copy of their new movie Frozen. We did not have a chance to see this in theaters so I was very excited to see what all the hype was about. This movie and it's songs have been everywhere! In fact my daughter still sang along with every song even though she did not see this movie until a few days ago!
In Disney's Frozen you will meet two sisters who love each other very deeply. But because of some circumstances that are out of their hands they are not able to continue to play together and have the fun-loving life that they once knew as children. As you can imagine this is heartbreaking for both of them as they long to play with each other and be the inseparable sisters they once were.
I found Disney's Frozen to be uplifting and inspiring. In this movie you will learn the power and love behind siblings. I never had a sister but I can say that the love I have for my brothers is just as powerful as the love between these two girls. It is amazing what families can do when they have the love and support of one another.
On The Back
Walt Disney Animation Studios, the studio behind "Tangled" and "Wreck-It Ralph," presents "FROZEN" a chilly twist on one of the most humorous and heartwarming stories ever told. "FROZEN" is an adventure that delivers a fresh and contemporary take on Hans Christian Andersen's classic winter myth "The Snow Queen," features an ensemble cast of fun and entertaining characters, including a comedic snowman brought to life by magic, as they embark on an exciting journey to save the kingdom from eternal winter and bring back summer!
Fearless optimist Anna (voice of Kristen Bell) sets off on an epic journey—teaming up with rugged mountain man Kristoff (voice of Jonathan Groff) and his loyal reindeer Sven—to find her sister Elsa (voice of Idina Menzel), whose icy powers have trapped the kingdom of Arendelle in eternal winter. Encountering Everest-like conditions, mystical trolls and a hilarious snowman named Olaf (voice of Josh Gad), Anna and Kristoff battle the elements in a race to save the kingdom.
The film is directed by Chris Buck ("Tarzan," "Surf's Up") and Jennifer Lee (screenwriter, "Wreck-It Ralph"), who also wrote the screenplay. It is produced by Peter Del Vecho ("Winnie the Pooh," "The Princess and the Frog"). Featuring original songs from Kristen Anderson-Lopez ("In Transit," "Winnie the Pooh") and Tony® winner Robert Lopez ("The Book of Mormon," "Avenue Q"), and an original score by Christophe Beck ("The Muppets," Oscar®-winning short "Paperman").