Lovely Candy Co. Review & Giveaway Ends 5/08/14
I am a sucker for Caramel and Chocolate. I can pretty much resist any other candy but if it contains chocolate and/or caramel….I just can't say no! Recently I was sent an amazing package from Lovely Candy Co. Because of this review I was able to test out their amazing caramels, fruit chews and fudgee rolls!
Lovely Candy Co. is a great company that is always guaranteed to be gluten and gmo free! Plus they do not use any high fructose corn syrup in their recipes either.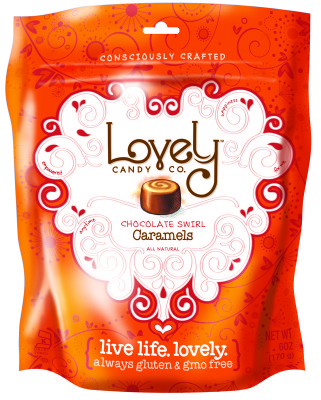 Caramels – I was sent Chewy Original Caramels and Chocolate Swirl Caramels. I honestly was blown away by how creamy and amazing these were. Honestly…hands down…the BEST caramel I have ever had…and I have had a lot of caramel! I love that the caramel not only had an amazing flavor but it did not get stuck to my teeth. I can't wait to try out some caramel apples with this caramel next Halloween! It will be perfect!
Superfruit Chews – This is the first time that I have ever had candy made with actual fruit. It was great to taste the raspberry…but also SEE that it was really made with raspberry. The Superfruit Chews come in a package with a variety of flavors. I was sent Blueberry, Cranberry & Raspberry which are three of my favorite fruits. These candies like the caramels are perfectly soft and chewy! No sticking to my teeth! Yum!
Fudgee Rolls – I received Chocolaty Fudgee Rolls and Raspberry Fudgee Rolls. First off let me say that the flavor of the fudge is outstanding. I can't stress enough how much I loved this candy and again the raspberry was really made with real fruit!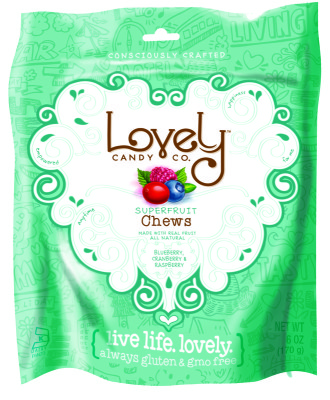 Lovely Candy Co. can be found at your local Target, Burlington, Jewel-Osco, Hallmark and Online! Enjoy!
Don't forget to fan Lovely Candy Co. on facebook to learn more!