I was sent a copy of this title for the purpose of this review. However my own opinion was used and not influenced in any way.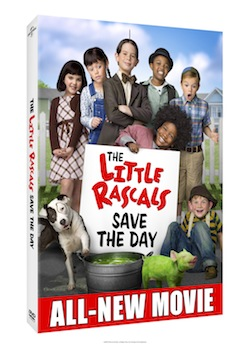 The Little Rascals Save The Day DVD
A few months ago my husband and I decided that we should introduce our daughter to the original Little Rascals on one of our family movie nights. I loved watching them with our daughter and hearing her laughter each time Buckwheat or Spanky did something funny!
Today I got a package in the mail that contained The Little Rascals Save The Day on Blu-ray and DVD. I could not wait to get my daughter home from school so she could watch this cute movie with me.
In this movie you will watch Alfalfa (with his interesting singing voice) compete against the perfect little boy who does not miss a beat! Of course Alfalfa knows he needs to win this competition more then then best looking and sounding boy on the block…Alfalfa has a bakery to save!
On The Back
The Little Rascals are back in an All-New Movie!
Join the fun with Spanky, Alfalfa, Darla, Buckwheat, Petey the Dog and the whole gang as they are up to their usual mischief! The Rascals try anything to raise the money needed to save their grandma's (Doris Roberts) bakery. The only trouble is – they can't seem to do anything right! From botched pet washes to terrible taxi service, they just can't raise a penny. Their only hope is to win prize money from the local talent show – but have you ever heard Alfalfa sing?