Happy Birthday Barney Review & Giveaway Ends 5/03/14
My daughter has a birthday coming. It is a special day for anyone…but especially for a child. That is why I am happy to announce that Barney has a new DVD available. Happy Birthday Barney will be a perfect addition to your little ones birthday gift. If you have a Barney fan in the house you won't want to miss out on this DVD!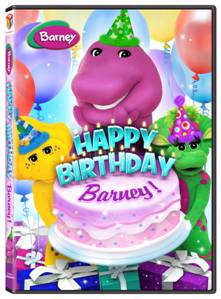 PROGRAM DESCRIPTION
Put on your party hat as everyone's favorite purple dinosaur Barney® and his playground friends gather to celebrate Barney's super-dee-duper birthday celebration in the all-newBarney: Happy Birthday Barney! available on DVD, Digital and Video on Demand April 15, 2014 from Lionsgate and HIT Entertainment.  
Trusted by moms and adored by children, Barney displays sharing, caring, imagination, dancing and learning on television, online and through live events, home entertainment, toys and publishing. Help Barney celebrate over 25 years of love and friendship with the Barney 25 Million Hugs campaign. Barney is inviting fans of all ages to help him reach his goal of sharing 25 million Barney hugs around the world through the site www.ShareBarneyHugs.com and via email, Facebook and Twitter.  
On The Back
When Barney's birthday arrives, the kids throw him a special party with an extra special surprise: all of the people he loves! Riff™ worries that his homemade present isn't goodenough – until Barney explains that sharing a gift from the heart is the best gift of all. When it's Layla's birthday, Barney and Layla use their imaginations to explore more about her family heritage. Come along for all of the birthday fun and surprises with Barney and his friends!
Episodes include:
·        "It's Your Birthday, Barney!"
·        "Caring"
·        "The Magic Lamp"
DVD Bonus Features
·        Baby Bop's Tea Party Games
·        Counting in the Garden Game
PROGRAM INFORMATION
Year of Production: 2014
Title Copyright: © 2014 Lyons Partnership, L.P.  The Barney name and character, related characters and the overlapping dino spots and Barney and star logos are trademarks of Lyons Partnership, L.P.  Reg. U.S. Pat. & Tm. Off. and other countries.
Type: TV on DVD
Rating: Not Rated
Genre: Children/Family
Age Target: 1-4 years old
Subtitles: NA
Closed Captioned: English
Feature Run Time: 65 minutes
Format: 4×3 Full Screen (1.33:1)
Audio Status: English and Spanish 2.0 Dolby Digital
Program Website: www.barney.com
Facebook: www.facebook.com/Barney
Twitter: @DinoMiteBarney
YouTube: www.youtube.com/HITBarney
How would you like to win a copy of Happy Birthday Barney of your very own! I am happy to say that one lucky US reader will be able to do just that! Good Luck!
a Rafflecopter giveaway