Turkey Taco Bites
I have been focusing on eating healthy this year. Basically if it is not healthy then I don't want to put it into my body. This has actually been a lot easier then I anticipated. I cleaned out all the cupboards and freezers of all the junk and I make sure that I am not hungry when I go grocery shopping..that helps me stick to my list better. 🙂
One of the ways I have been focusing on eating healthy is by cutting down on the amount of red meat that my family eats. We have been trying out new recipes that contain fish, chicken and turkey.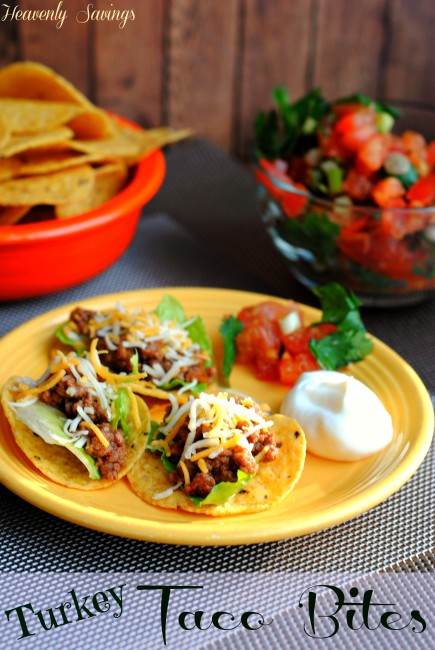 Ingredients for Turkey Taco Bites –
1 lb. ground turkey
1 packet of taco seasoning (any brand)
½ C. shredded cheese
3-4 romaine leaves, ripped to fit the tortilla chips
½ C. diced tomatoes
Sour Cream (optional)
Taco Sauce (optional)
1 bag of regular size tortilla chips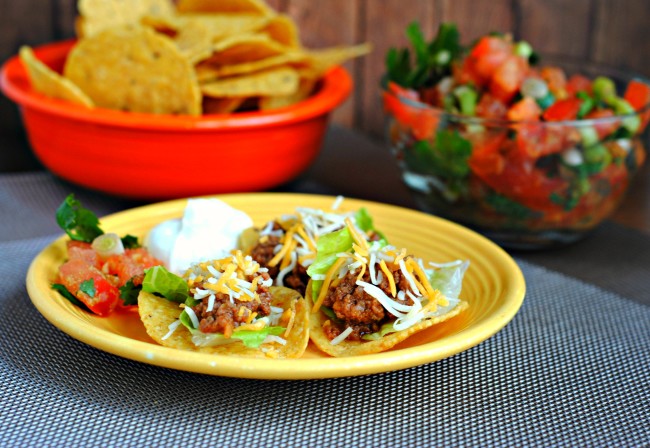 Directions –
#1. Cook the 1 lb. ground turkey and drain grease. Add the taco seasoning packet and 1/2-3/4 C. of water. Let simmer on low 15-20 minutes.
#2. While the turkey is simmering you can start setting up the Taco Bites; place 3-4 chips on a plate and add a small piece of romaine to each one.
#3. Once the turkey is cooked let it cool a few minutes. Next, add 1 tbs. of meat on top of the romaine. Top with shredded cheese and other optional toppings (my kids will only eat the lettuce, meat and cheese 😉 )
Store the taco week in an airtight container for up to 1 week or in the freezer for several months.
*This are super easy to make and make meal time a little bit more fun for the kids – especially if you allow them to make their own!
These little Turkey Taco Bites are a great little finger foods for the kids.