I was sent a copy of this title for the purpose of this review. However my own opinion was used and not influenced in any way.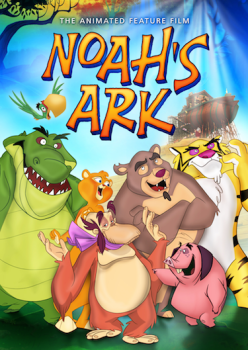 Noah's Ark Animated Feature Film
My Thoughts
I love coming across any animated films or books that depict bible stories. It is a great way to get those stories into the heads of the kids. The animated feature film Noah's Ark brings to life the character of Noah and helps the children to understand what it might have been like for him to build an ark. The trials that his family went through as well as the work he put into finding the animals and caring for them.
I love the cute little twist that this animated film put on the Noah's Ark story. Of course it is not 100% to scripture…but it still lets the children know the importance of the story. As you can imagine this was something that not only changed Noah and his life forever…but the life of his family. I can imagine that it was not easy for any of them!


On The Back
All Hands, Paws, And Hooves On Deck
for an adventure on the most famous boat of all time! Award-winning filmmaker Juan Pablo Buscarini's Noah's Ark presents the classic story as a fresh and funny animated retelling that the entire family will love.
Noah is building a whale of a boat in order to save two of every species from a flood that will cover the entire world. Pretty soon, animals are lining up to board the Ark two by two. But as the rain falls outside, trouble begins to brew as the animals get hungry, a pair of stowaways plot to take over the ship and Noah's own family begins to squabble! One thing's for sure – it won't be smooth sailing on this trip. But with a little luck and a little faith, Noah will be able to deliver his floating zoo to safety!