GlossyBox – Monthly Beauty Box Review & Giveaway!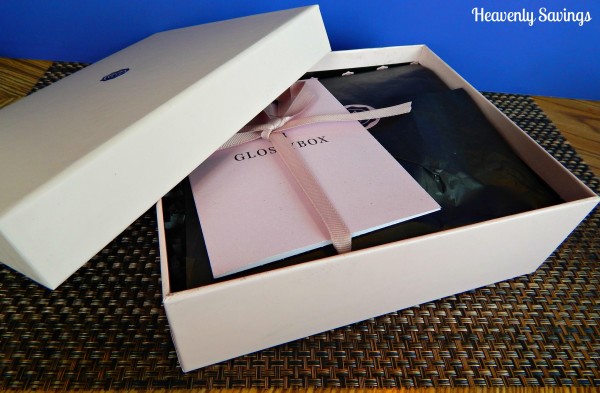 I can't get enough of these amazing boxes that contain new and interesting products getting shipped to your door each and every month. Recently I have signed up for craft boxes, healthy food boxes and boxes for my pet. Thanks to this review I am now even getting to try out a box filled with beauty products Thanks to GlossyBox!
Growing up I was able to try out all the latest and greatest beauty products. My Mom and Grandma ran a day spa and they were always sent samples of beauty items to try out. That was years ago and I have really missed staying up to date with the best products for my face, hair and nails.
The GlossyBox was sent right to my door and I could not wait to see what was inside. It came beautifully packaged and once I opened it up I knew that this box would be something I would love to received monthly! The GlossyBox contained 5 beauty products that I had never heard of before and a beautiful bonus charm bangle.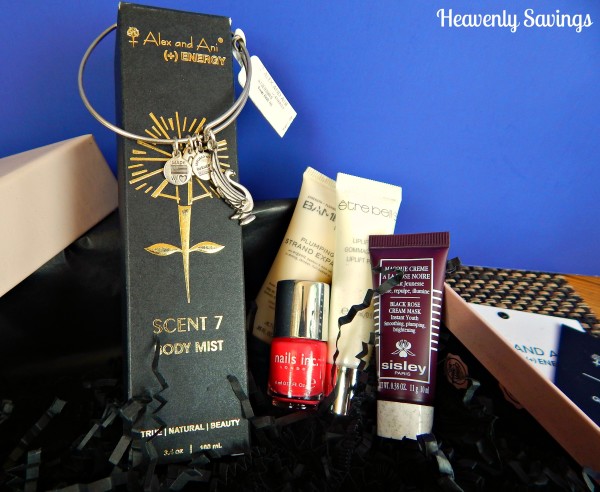 Alex And Ani – Scent 7 Body Mist + Energy
The body mist is earthy and really does help to energize me. I love the comfort I feel when I wear it and the scent is amazing. I love this so much that I will be purchasing another one to carry around with me in my purse. It's great! The Alex And Ani Scent 7 Body Mist is created with four energizing elements of the earth, air, fire and water.
Etre Belle Cosmetics – Liplift Peel
This Liplift peel is made in Germany and will help to exfoliate your lip area. I have never tried of nor have I ever even heard of a lip exfoliator. Because of my curiosity this was the first product I tried out. I could not resist. The applicator tip allows you to glide the liplift peel onto your lip area easily. After one minute I took a damp cloth and removed it from my lips like the directions said. I instantly could feel the softness of my lips. It worked great.
Alterna Haircare – Bamboo Volume Plumping Strand Expand
My hair is very flat and dull. I have tried lots of different volume products in the past but never anything that worked this good. This is by far my favorite item that came in this month's GlossyBox. I love how soft my hair is when I use the Bamboo Volume and the scent is great. I could see a huge difference and it lasted the entire day.
Sisley Pairs – Black Rose Cream Mask
It has been a very long time since I have done a mask of any kind on my face. I used to not think they were worth my time because I never really seen a difference. Now that I am 30 I know that I need to take more time for my skin. I have been thinking about finding a great product like this Black Rose Cream Mask that would help to give my skin that glow that it used to have. The Sisley mask is enriched with anti-aging ingredients as well as vitamins and plant extracts that is vital for your skin. I loved this mask!
Nails Inc – Brook Street Nail Polish
Spring time is here which means it is time for me to update my nail polish colors. This beautiful pink color is the perfect color to add a pop of spring time color to any of my outfits. I love this shade of pink!



GlossyBox is a great way for you to try out new products. For just $21 a month you can experience 5 luxurious body products that I am sure you will fall in love with! Sign up today and use code PINK at check out to score a Bonus Blush!
How would you like to win a GlossyBox of your own? I am happy to say that one lucky U.S. reader will be able to do just that! Good Luck!