Todd Oliver
Funny Dog
The most important personality trait I look for in a friend is laughter. I like to surround myself with people who have a sense of humor and who know how to laugh. I grew up with a Dad who knew how to make people laugh and I married a man like that as well! I love to laugh!
Recently I was sent a copy of Todd Oliver Funny Dog for the purpose of this review. I love ventriloquists so I could not wait to see what Todd Oliver had to offer with his super cute dogs!
Todd Oliver has real dogs in his act that have personalities all their own. It is funny to see them "talk" and hear what they have to say!
This is a great laugh out loud DVD that I can sit and watch with my husband. I love listening to Todd's creative jokes and how well he brings life to all of his character friends!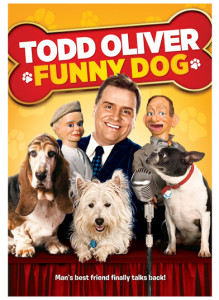 On The Back
Join in the fun as nationally known comedian Todd Oliver and his amazing talking dogs (All Oliver family rescued pets!) bring down the house in this over-the-top family-friendly performance!
Todd's national appearances on "The Late Late Show with Craig Ferguson", "The Today Show", "Late Show with David Letterman", "The Tonight Show", "Walker Texas Ranger", "CNN Entertainment News" have endeared him, along with canine sidekicks Irving and Lucy, to countless fans of all generations! Most recently, Todd became a semi-finalist on NBC's "America's Got Talent."