Angelina Ballerina – On With The Show
This past winter my husband got sick and ended up with laryngitis…twice! For two weeks of the winter season he had NO VOICE! No even a whisper would come out of his mouth. I know that it was not easy for him to communicate at work…or at home with me. He was frustrated to say the least.
Angelina Ballerina On With The Show reminded me of how hard it was for my husband to communicate with me. That is exactly what happens to Ms. Mimi! She loses her voice and has a difficult time communicating with her dance class…well that is until they decide to communicate through dance! – Not something my hubby would have done…but a super cute concept!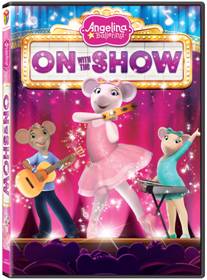 On The Back
The stage is set for big performances and lots of fun! When Ms. Mimi loses her voice, her class finds a way to communicate through music. After a musical mishap, AZ doesn't miss a beat and discovers another way to keep tempo. Gracie learns an important lesson about finding inspiration, and Angelina and Polly set the stage for a perfect celebration for their dad! Come along as the mouselings let their creativity shine and get on with the show!
Bonus Features:
Angelina's Picture Game
I Will Be A Star
Karaoke Music Video
PROGRAM INFORMATION
Year of Production: 2014
Title Copyrights: © 2014 Hit Entertainment Limited.  The Angelina Ballerina name and character and the dancing Angelina logo are trademarks of Hit Entertainment Limited, Katharine Holabird and Helen Craig. HIT and the HIT logo are trademarks of HIT Entertainment Limited.
Type: TV on DVD
Rating: Not Rated
Genre: Children/Family/Animated
Age Target: 2-6 years old
Closed Captioned: English
Feature Run Time: 61 minutes
Format: 16×9 Widescreen (1.78:1)
DVD Audio Status: English, Spanish and French 2.0 Dolby Digital
Program Website: www.angelinaballerina.com
Facebook: http://www.facebook.com/angelinaballerina
Twitter: @ABLoveToDance