Story Time with Barney
I have always been told that I have a lot of patience. Of course I don't think I do…but then again I don't ever get as riled up about things as others do. I guess patients is just something I was born with. In Story Time with Barney you will learn about patience from Barney and maybe even Baby Bop.
In this new DVD your children will learn what it means to be patient. You know the saying "Good Things Come To Those Who Wait!" They will also learn two other key attributes they will need in their lives like honesty and perseverance!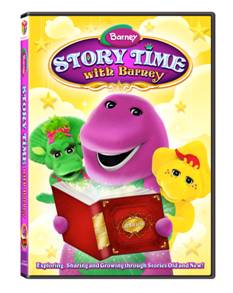 On the Back
Once upon a time, Baby Bop, Ryan and Daniel joined Barney on some storybook adventures! With the help of classic tales, the Dinos and friends learn important lessons like patience, honesty and perseverance. Baby Bop must contain her excitement to understand that good things come to those who wait, Ryan sees that it's better to be honest and play fair, and Daniel discovers that practice makes perfect! Barney shows that stories, imagination, and friends can lead to Happily Ever After!
Episodes-
Fairy Tales
The Emperor's Contest
The Sword in the Sandbox
Bonus Features-
Short Stories with Barney Featurette
PROGRAM INFORMATION
Year of Production: 2014
Title Copyright: © 2014 Lyons Partnership, L.P.  The Barney name and character, related characters and the overlapping dino spots and Barney and star logos are trademarks of Lyons Partnership, L.P.  Reg. U.S. Pat. & Tm. Off. and other countries.
Type: TV on DVD
Rating: Not Rated
Genre: Children/Family
Age Target: 1-4 years old
Subtitles: NA
Closed Captioned: English
Feature Run Time: 53 minutes
Format: 4×3 Full Screen (1.33:1)
Audio Status: English and Spanish 2.0 Dolby Digital
Program Website: www.barney.com
Facebook: www.facebook.com/Barney
Twitter: @DinoMiteBarney
YouTube: www.youtube.com/HITBarney
How would you like to win a copy of Story Time With Barney on DVD? I am so happy to say that a lucky US Heavenly Savings reader will be able to do just that! Good Luck!