Disney's Winnie The Pooh Springtime With Roo On Blu-Ray and High Def.
Winnie The Pooh is one of my all time favorite characters. I love is humble nature and sweet spirit. With Spring finally here I could not think of a better movie to watch on our family movie night. Disney's Winnie The Pooh Springtime With Roo will not only have your family anticipating the blooming of flowers but also looking forward to Easter. In this adorable movie you will watch as the gang get their hopes up about Easter…just to be let down by Rabbit when he decides that this year he will not be the Easter Bunny. Of course the friends are never down for long as they go on a journey together to learn about what friendship and love really means.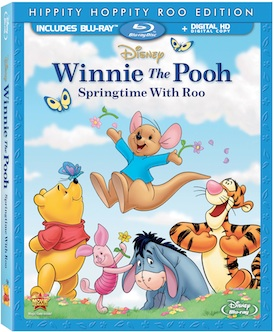 On The Back
Each year, Rabbit plays Easter Bunny, but this year, he's decided it's "Spring Cleaning Day," and he orders everyone to hop to it: scrubbing, dusting, and mopping. All his pals are disappointed – especially little Roo – until Rabbit learns that putting others first and showing friends how much you care turns every day into a precious gift. Sparkling with unforgettable songs and a never-before-seen bonus treat, this delightful "egg-stavaganza" shows why love, hope and friendship are always in full bloom in the Hundred Acre Wood!
 How would you like to win a copy of Disney's Winnie The Pooh Springtime With Roo on Blu-Ray? I am so happy to say that one lucky US reader will be able to do just that! Good luck!