** I was sent a copy of this title for the purpose of this review. However, my own opinion was used and not influenced in any way.
Disney's The Jungle Book Review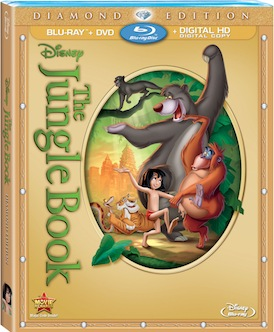 The Jungle Book has been one of my all time favorite Disney Movies since I was a child. I love the fun loving characters and the story behind each of those characters. When I was a child I would imagine that I was living in a jungle with all my wild animal friends. I used to have some great adventures!
The Jungle Book is about a boy named Mowgli who is growing up in the jungle. He is currently being raised by a bear and a black panther. The animals know that the jungle is not the safest place for a child so they decide to help the little human boy find a home among his own kind. But, that is easier said then done. Especially since Mowgli does not want to leave the jungle. Will his animal friends be able to find him a home before the not so nice animals get to Mowgli? You will have to watch and find out!
On the Back
Now for the first time ever on Blu- ray with glorious digital high definition, Disney's Jumpin' Jungle Classic has never looked so lush or sounded so good! Beloved characters, swinging music and new behind -the-scenes bonus features make this Diamond Edition Blu-ray a must have for every family classic collection!
Meet the most unforgettable characters and embark on a thrilling adventures with Mowgli as he journeys deep into the jungle and learns "The Bare necessities" of life from happy-go-lucky Baloo the bear. Meet Bagheera, the wise old panther, and crazy King Louie, the orangutan. But watch out for the cunning tiger Shere Khan and Kaa, the ssssneakiest snake in the jungle!
Explore your family's wild side as you venture into The Jungle Book for extraordinary adventures and a heartwarming tale that celebrates the true meaning of friendship.