** I was sent a copy of this title for the purpose of this review. However, my own opinion was used and not influenced in any way.
Disney Planes
I love all things Disney. Every time there is a new movie out I have to take my family to see it. We even went to Disney's Planes on opening night.
Disney Planes is a movie that my whole family loved. My husband included and he normally don't watch cartoons with us. He loved Disney Planes and was the first one to sit down and watch it again after our Blu-ray copy arrived.
Disney Planes is about a crop duster who dreams of winning a race. He knows how hard this might be since racing is not what normal crop dusters do…but he can't give up on his dream.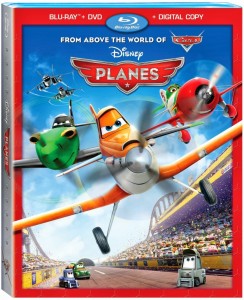 Ashes Thoughts
I love this movie. It is a movie that I can sit and watch while I cuddle with my Daddy. We loved watching Cars together and I was excited to see what fun the plains got into. My Dad and I went to the theater to watch this movie together and we loved it.
On The Back
The world of Cars takes flight in Planes, Disney's high-flying animated comedy revved up with action and adventure. Join Dusty, a crop duster with sky-high dreams and a once-in-a-lifetime chance to take on the world's fastest flyers in the greatest air race ever. Dusty has a huge heart but two big problems…he's not exactly built for speed, plus he's afraid of heights. His courage is put to the ultimate test as this unlikely hero aims higher than he ever imagined. With a little help from his friends, Dusty finds the courage to be more than he was built for-and the inspiration to soar. Experience Disney's uplifting story of bravery and friendship on Blu-ray with never-before-seen bonus features.