Springfield Collection Dolls Review and Giveaway
Every little girl wants a doll that resembles them, one they can dress up and play with, one that can be their best friend. That is exactly what the Springfield Collection Dolls can be for your child.
Recently I was sent a beautiful little Springfield Collection Emma Doll for the purpose of this review. Their are 5 different Springfield Collection Dolls to choose from Abby, Maria, Olivia, Madison and Emma. Emma was the doll that resembled my daughter so she was my first choice. The Springfield Collection Dolls are 18″ tall and have long hair which can be easily styled by your little one. Springfield also has lots of adorable outfits that can be purchased to style each doll to fit your daughter and her personality!
My favorite thing about the Springfield Collection Dolls (besides the quality) is their price tag! These adorable 18″ dolls can be yours for just $21.99!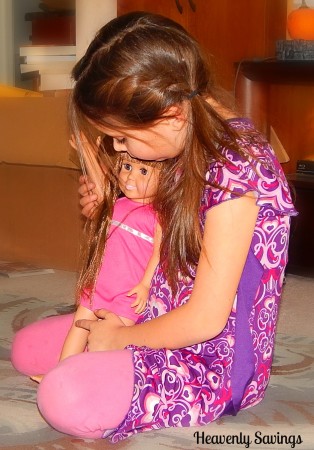 Each doll comes with a personality description on the back of the box. My daughter loved reading about her new doll Emma and how she wants to be a teacher, she loves spending time outside and she has a dog. That helped give my daughter so many play ideas and immediately set up some of her other toys so that her new Emma doll could teach a class.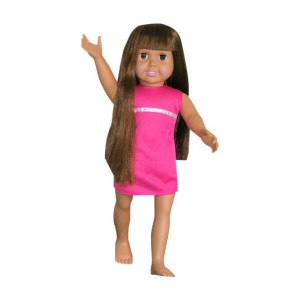 Besides playing teacher my daughter also loved dressing her new Emma doll in different outfits. Outfits for the 18″ Dolls retail between $6.99 – $10.99! I just love those prices! Plus if you want to go above and beyond just outfits you can do that too! Springfield also has doll accessories including purses, glasses, hair bows, hats and more!
Ashes Thoughts (age 8)
I love Emma. She looks like me and she has a love for dogs just like I do. They are my favorite animal. Together Emma and I can walk my dog. I know that would make her happy. We also like to set up my Skylanders and teach them together. Emma wants to be a teacher and she can teach my Skylanders. I love Emma she is beautiful.
How would you like to win one of the 5 Springfield Collection Dolls? I am so happy to say that one lucky US reader will be able to do just that! Winner will also receive an outfit for their new doll! Good Luck!