I was sent product for the purpose of this review. However, my own opinion was used and not influenced in any way.
Nenuco Sleep With Me Baby Doll
Children love playing Mother or Father. They see the way we are as parents and they love to imagine that they as well are parents. I know as a child my daughter loves baby dolls. Especially ones that she can pretend to feed and put to sleep. That is why I love the Nenuco Sleep With Me Baby Doll!
The Nenuco Sleep With Me Baby Doll comes with a little crib that can easily attach to your child's bed. The baby doll also comes with a baby bottle, pacifier and blanket to allow the baby to sleep next to your little one. There is even a nightlight that plays music!
My daughter really loves this Nenuco Sleep With Me Baby Doll. She loves being able to tuck in the baby and hold the babies hand as she is sleeping. The night light has also come in handy! I hear the music occasionally through out the night and I know that my daughter is checking on her precious baby doll.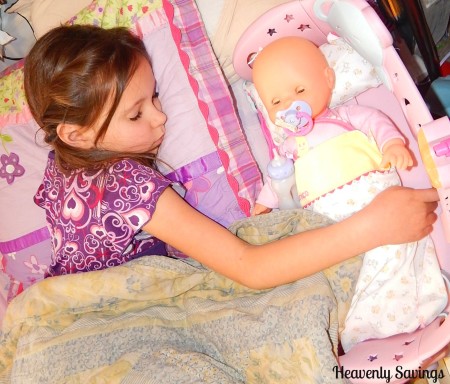 Nenuco Sleep With Me Baby is filled with educational values for kids including:
– Imagination & Creativity
– Intelligence
– Emotional Development
The doll is created for children ages 3+ and retails for $29.99 at Kmart and Toys R US!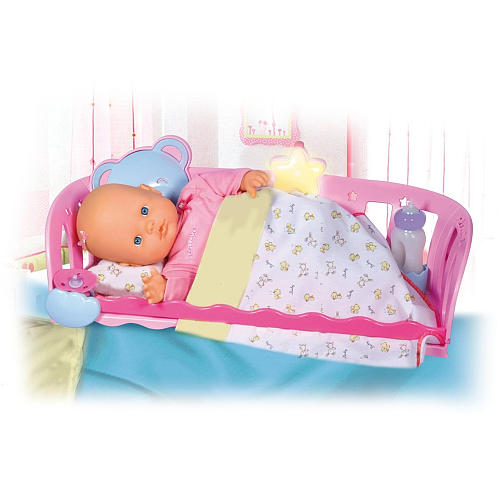 Ashes Thoughts (age 8)
 I love that the baby doll can sleep next to me. I also like the light and the pretty song. This is my new favorite baby doll. I can tuck her in each night and comfort her if she gets sad. I love that I can also feed her with her bottle or give her a pacifier if she gets scared.  She is my best friend.
Nenuco