Tonight The Sound of Music Live!
I am so excited to watch The Sound Of Music Live with my family! I loved this movie growing up and now I will be able to share the fun and excitement with my daughter! It is the perfect night to order pizza and cuddle on the couch with  my family!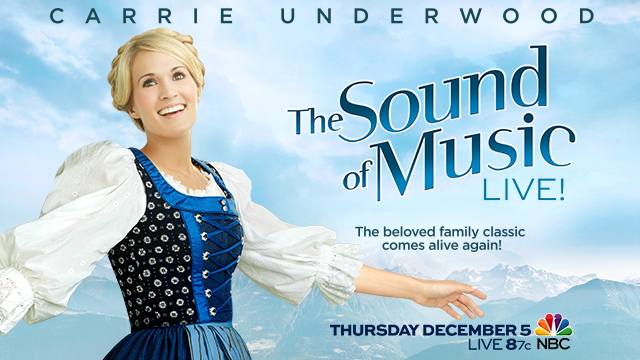 In just 3 hours The Sound of Music will be live on NBC. This is a great chance to help your family get into the holiday spirit and make some amazing memories with loved ones. Plus I am happy to say that I will be tweeting live during the show! I would love to tweet with you about your favorite parts and what you are loving! I can't wait!! Will you be watching?
When: December 5th
Time: 7:00pm CST (8:00 pm EST)
THE SOUND OF MUSIC
From executive producers Craig Zadan and Neil Meron ("Smash," "Hairspray," "Chicago") comes an instant holiday classic: "The Sound of Music," based on the original Broadway musical. Carrie Underwood and Stephen Moyer star as Maria and Captain von Trapp in this beloved story of the young novice who falls in love with Captain von Trapp and his seven children, set against the backdrop of Nazi-occupied Austria. The jewel in the Rodgers and Hammerstein crown, "The Sound of Music" contains some of the most famous songs ever written for the stage, including "The Sound of Music," "My Favorite Things," "Do-Re-Mi," "Sixteen Going on Seventeen," "Climb Every Mountain" and "Edelweiss."
This new version of "The Sound of Music" will be a faithful adaptation of the original stage musical, to retell the story for a whole new generation. And more than that, it will be broadcast LIVE, adding a whole new level of immediacy and excitement. Get ready to reintroduce your family to the most joyful, most emotional and most musical family adventure of them all.