Hello Kitty Slippers at Kohl's As Low As $4.79 Shipped!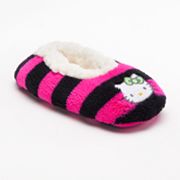 If you are still looking to score some amazing deals at Kohl's then you might want to hurry and make your purchases! Today is the last day to get Free Shipping on ANY order! Plus you can use coupon code CYBERWEEK to score 20% off your purchase!
Today I found these adorable Hello Kitty Slippers priced at just $5.99. Once you use code CYBERWEEK your total will be $4.79! These will be a great stocking stuffer!