$20 for $40 of eToys.com at Groupon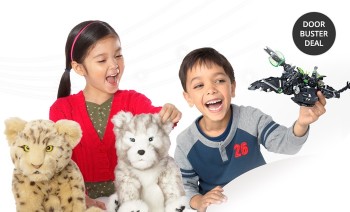 Looking for a great deal on toys? Check out Groupons deal today on this eToys.com Voucher! Just $20 will get you $40 at eToys.com! Check out the details below…and remember that if you don't see the deal right away do a search for eToys! It will come up! 🙂
Toys from eToys.com
Virtually any child of any age can find a toy they like at eToys.com's virtual toy store. The comprehensive shop stocks top brands, including Disney, Mattel, Lego, Fisher-Price, and Melissa & Doug. For easy browsing, shoppers can navigate toys by a variety of categories. An age-group search—ranging from newborns to teens—can help family friends, relatives, and reformed Scrooges select an appropriate gift. Categories such as educational and award-winning toys help parents pick top toys. Finally, shoppers can browse genres that interest their kids, selecting options as varied as outdoor toys, musical instruments, building blocks, and puzzles.
View the website
Browse by age, category, and top brands
Preschool, early-learning, and educational toys
Action figures, video games, and electronics
Arts and crafts
Outdoor toys, bikes and scooters, and remote-controlled vehicles
Dolls and stuffed animals
Toys for ages newborn to teen
---
How to get your goods: after purchasing this deal, pull up your Groupon with our mobile app or by going to My Groupons (or to My Gifts if you are giving this as a gift*) and clicking the view voucher link. Then, follow the instructions on your voucher.
For questions pertaining to this deal, please visit the deal Q&A on this page. For post-purchase inquiries, please see your voucher for customer service contact information.
View the Groupon Goods FAQ for additional information.
*Once the recipient claims your gift, you will no longer be able to print the Groupon.