Barney Perfectly Purple DVD
My daughter is a painter at heart and now she is able to laugh and learn along with Barney in this painting filled DVD. Watch as Barney and his friends not only paint but also turn searching for BJ's drumsticks into a fun game.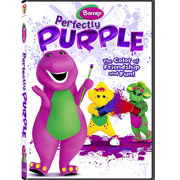 On The Back
With a splash of purple and help from his friends. Barney always finds a way to have a Tee-riffic time together. Barney and his friends are planning a party, and with some special dino magic, it becomes a purple party surprise for everyone! When Baby Bop, BJ and Riff reveal their inner artists, they learn the most special art comes from the heart! When Riff's drumsticks go missing, Barney turns the search into an exploration of the colorful world around them. Barney and his friends show how colors make the world a beautiful place!
Episodes:
A Perfectly Purple Day
Arts
Neighborhood
Bonus Features:
Animal Sounds Match Game
Barney's Color Train Read-Along
Clean Up, Clean Up Karaoke Music Video
How would you like to win a copy of Barney Perfectly Purple on DVD? I am happy to say that one lucky US reader will be able to do just that! Good Luck!