Chicken Soup for the Soul Miraculous Messages From Heaven
Losing a loved one is hard. But I know that our time apart is temporary. I know that my loved ones are still with me every single day. Watching over me and guiding me in my life. There is a peace that comes with knowing this.
I found Chicken Soup for the Soul Miraculous Messages from Heaven to be inspirational. I loved reading all of the wonderful ways that people have heard from their loved ones who have passed away. Truly amazing!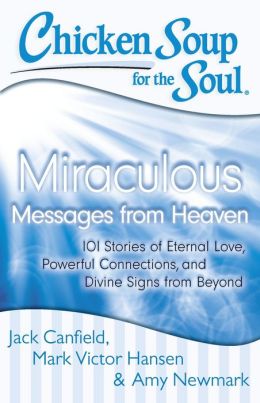 On The Back
101 Miraculous Messages from Heaven and amazing connections, signs from beyond, angels, and answered prayers.
When our loved ones leave this world, our connection with them does not end. Their physical presence may be gone, but not their spirit. They send us signs from beyond, come to us in dreams, or deliver messages to us in a variety of surprising and heartwarming ways.
You'll find comfort and inspiration in these miraculous true accounts by ordinary people who have had extraordinary experiences. Read about answered prayers, divine messengers, guardian angels, premonitions, and explainable coincidences.
This collection will comfort and inspire anyone who has lost a loved one. It will deepen your faith, renew your hope, and open your eyes to them miracles around you.
How would you like to win a copy of Chicken Soup for the Soul Miraculous Messages From Heaven? I am happy to say that three lucky Heavenly Savings readers will be able to do just that! Open to US and Canada! Good Luck!
a Rafflecopter giveaway