I am a member of the Collective Bias® Social Fabric® Community. This shop has been compensated as part of a social shopper insights study for Collective Bias and its client.
Let NickMom Help Take Your Mommy Stress Away!
Lets face it…Motherhood is hard. Between the loads of laundry, playing chauffeur, and breaking up sibling fights there is  not much Mommy Time to be found.  At least that is how I felt before NickMom. Thanks to Instant Mom and NickMom I now have a place to turn after the kids are in bed.
Recently I was able to have a get together with my girls in celebration of Instant Mom which airs on Nick Jr. Sunday's at 10:00pm EST. This was a much needed get together as it has been some time since the girls and I have had a relaxing night filled with fun and laughter.
To start off our NickMom filled night I filled my kitchen table full of snacks and goodies. It is not very often that we as Mom's get the goodies without having to share, right? That was NOT going to be the case with this party! These treats were all for us Moms! Much to the dismay of the kiddo's 🙂 In fact before the girls arrived I got this note handed to me by my daughter: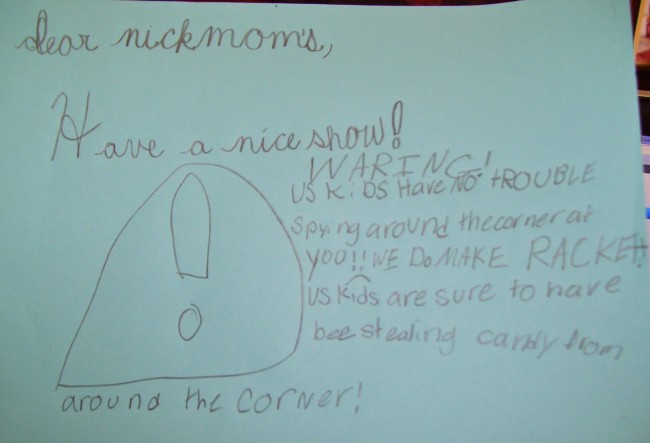 It reads as follows:
"Dear NickMom,
Have a nice show! WARNING! Us kids have no trouble spying around the corner at you!! WE DO MAKE RACKET! Us kids are sure to have be stealing candy from around the corner!"
Yep as you can see it's never a dull moment at my house.
Once the girls arrived we sent all of our kids away with my husband. (I owe him big time!) and we settled in for a long fun filled night. We were excited to watch the new hit show Instant Mom. We gathered up our goodies and chilled on the couch waiting for the fun to start.
Instant Mom is a show that we as mothers can all relate to. Instant Mom stars  Tia Mowry-Hardrict as Stephanie, a new Step Mom who has to quickly become acquainted with the quick witted tactics of children. Let's face it, children are deceiving.  We love them but they can get under our skin from time to time. Instant Mom will help you to unwind and laugh off all of your #MotherFunny moments.
Instant Mom not only made us laugh at our NickMom party. But the show also helped us re-live some of our favorite #MotherFunny moments. You know the ones…like when you get off work just to realize that you left your car running the entire day. Yep that happened to a friend of mine. Or when you are used to ending your conversation's with your kids by saying those three little words "I Love You" just to realize that you said them to a co-worker as you were leaving work for the day. Or how about those embarrassing moments when your kids say crazy things to a stranger. For example I remember walking through a store in front of some alcohol in which a stranger was purchasing. Much to my dismay my daughter yelled at the top of her lungs, "Everybody STOP what you are doing! Alcohol kills! Just put it down!" Yep I was humiliated!
Want to learn more about Instant Mom which airs on Nick Jr. Don't forget to fan NickMom on social media to keep up to date with all things #MotherFunny
 https://www.facebook.com/nickmom
@InstantMomTv