I was sent a copy of Phineas and Ferb Mission Marvel for the purpose of this review. However, my own opinion was used and not influenced in any way.
Disney's Phineas and Ferb Mission Marvel
Phineas and Ferb and the adventures Marvel characters are two worlds that I never thought would combine. But, alas they have! This was such a great combination in my opinion as it made the day of two little ones in my home. As most of you know I have an 8 year old daughter who loves Phineas and Ferb. But, something that might surprise some of you is that I also have a 7 year old little brother. My daughter and little brother are the best of friends and they do everything together. That is why I was so happy to see each of their favorite cartoons combine into one! When this DVD arrived there was NO fighting over what to watch!
Ashes Thoughts – Age 8
Super Hero's come and knock on Phineas and Ferb's door. It seems that Dr. Doofenshmirtz took away their powers. Phineas and Ferb tried to help them get their powers back but that is when Candace messed everything up and the super heros did not get their right powers back. They got the powers of other heros.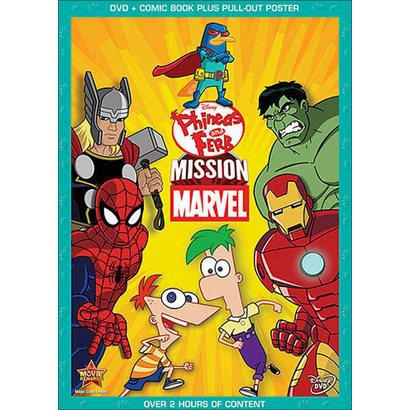 On the Back
The fate of the Tri-State area – and the world – hangs in the balance as Agent P and Danville's most dynamic duo team up with four of Marvel's greatest Super Heroes – Iron Man, Hulk, Thor and Spider-Man – in one awesome full-length adventure.
It's thwarted-business-as-usual for Dr. Doofenshmirtz – until a blast from his "Power-Drain-Inator" ricochets off of Phineas and Ferb's space station, hitting Spider-Man, Iron Man, the Hulk and Thor. Now the kids must restore the Super Heroes' lost powers before a group of dastardly super villains destroy the planet! Fortunately, Nick Fury and S.H.I.E.L.D. are also on the case, together with O.W.C.A.'s top agent. Perry the Platypus. Aren't Phineas and Ferb a little young to help avert a potential disaster? Yes. Yes they are! Bursting with original songs and six additional adventures, Phineas and Ferb:Mission Marvel is a must-own, action-packed event of heroic proportions!