~Dino Dan~ Dino 4 Pack DVD!
Here is an awesome 4 pack of DVD's of Dino Dan! I was given this Dino 4 pack to review and my kids and I were so thrilled. We absolutely love Dino Dan and get this, one of the dvd's included in this 4 pack is ALL NEW!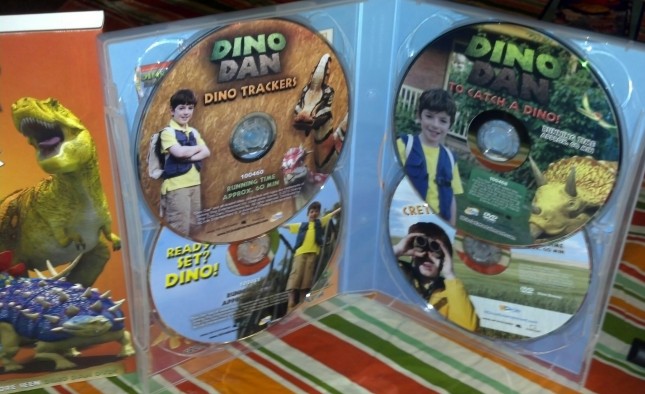 This Dino 4 Pack has 4 amazing dvd's all in one box!!
1.) Dino Trackers
2.) To Catch A Dino
3.) Ready? Set? Dino
4.) Cretaceous Creatures
Each dvd has a running time of approximately 60 minutes. I was going to just watch one of the new episodes on the never seen before dvd and ended up curling up with my kids and watched the entire dvd. Each episode is great!
Dino Dan is an entertaining and educational at the same time. They are teaching us all about dinosaurs. The names of them, the way they walk, make sounds, if they are omnivores or herbivores essentially anything you want to know about dinosaurs and more!
Dan is a little boy who just absolutely loves Dinosaurs and in each episode he encounters different types of dinosaurs and the story evolves from there.
One of our new favorite episodes had a little cretaceous creature sneaking into Dan's school and it stole a students snack, actually there was some humor to it and the snack was just silly but that's a little fun side note to the mystery of finding the dino that took it! You can watch how Dan dusts for the dinosaurs footprint which is the same as a human finger print.
This amazing Dino 4 pack would make any child happy especially if they loved dinosaurs! My daughter is almost 10 and she loves these episodes and my son is 8 and he can't get enough of Dino Dan!
Christmas is coming up and this would be a great gift!
*Bonus* If you happen to have an Iphone you can download a free app and scan the fossil picture on the back of the dvd box and watch the dinosaur come to life!