** I was provided with a copy of this title for the purpose of this review. However, my own opinion was used and not influenced in any way.
Disney Pixar Cars Ultimate Collectors Edition
Disney Pixar's Cars is my husbands all time favorite Disney movie. There is something about these funloving Car's characters that is captivating and I am so happy to say that for the first time ever you can now purchase Disney Pixar's Cars Ultimate Collector's Edition which contains a Blu-ray, Blu-ray 3-D, DVD and Digital Copy! Wowza!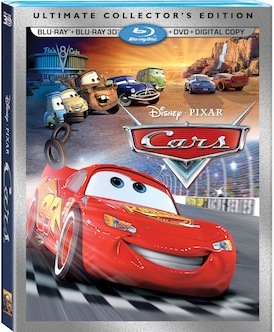 Ashes Thoughts – age 8
I like to watch Cars with my Dad and I like to build cars in the garage with my Dad. My favorite character in this movie Sally because she is a girl and she is my favorite color. My favorite part of this movie is when Lightning McQueen tries to escape…he does not get very far.
Disney Pixar Cars is about Lightning McQueen who gets stuck in a small town. At first he is very sad and does not want to be there. But at the end of the movie Lightning McQueen realizes that he has made some friends. He also realizes the real meaning of work as he has to pull a tar carrier and re-do the road that be ruined.
On the Back
Pixar's landmark classic goes full throttle off the screen and into your living room for the first time ever in spectacular Blu-ray 3D! From the acclaimed creators of Toy Story, The Incredible's and Finding Nemo comes a high-octane adventure comedy that shows life is about the journey, not the finish line.
Hotshot rookie race car Lightning McQueen (Owen Wilson) is living life in the fast lane until he hits a detour on his way to the most important race of his life. Stranded in Radiator Springs, a forgotten town on the old Route 66, he meets Sally, Mater, Doc Hudson. (Paul Newman) and a variety of quirky characters who help him discover that there's more to life than trophies and fame.
Treat your crew to turbocharged entertainment with this Cars 3D Ultimate Collector's Edition. It's flat-out fun with a sensational soundtrack, thrilling bonus features and revved-up picture and sound!