Spiced Honey Vanilla Peaches
I am a sucker for peaches! Recently I found two bushels of peaches at my front door. My Uncle has a Peach Tree in his back yard and this year he had an abundance of peaches that he decided to share with me. I was thrilled!
As I was debating what I was going to can with this years peach crop I decided upon Spiced Honey Vanilla Peaches. I had never canned these before but they sounded amazing and I knew that I had to give them a try!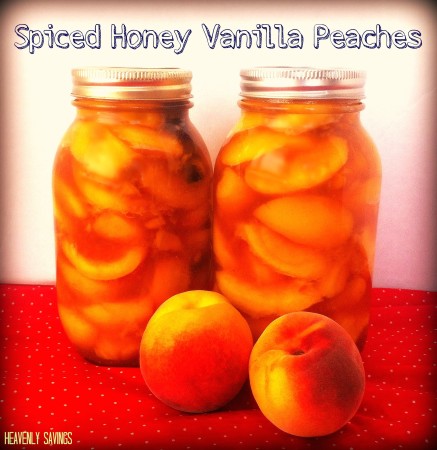 Ingredients: 
7 lbs peaches peeled and sliced 2tbs
vanilla extract
4
cinnamon sticks
1/2 cup white sugar 1 cup
honey
2 cups water  
Directions:
1. Wash peaches and score an X at bottom of each peach.
2. Blanch peaches 1 minute in boiling water.
3. Immediately place blanched peaches into ice water and let sit for 1 minute.
4. Peel skin from peaches.
5. Slices peaches and remove from seed.
6. In large saucepan bring vanilla, cinnamon, honey, sugar and water to a boil over medium heat. Add sliced peaches and cook for 3 minutes. Pack peaches and liquid into sanitized quart jars leaving 1/4″ headspace. Take a butter knife along inside of jars to remove air bubbles. Place lids and process 30 minutes (remember to adjust for altitude).
Oh my goodness these peaches are amazing! I ended up canning 16 jars of them about a month ago and I only have 6 left! My family can't get enough! Next year I will make sure to can many MANY more jars! Yum!
** Please remember canning can be dangerous. If you have never done this before then please read up on the importance of canning properly. Botulism  is a very serious illness!