Disney's The Little Mermaid
Disney's The Little Mermaid has been my all time favorite Disney movie since I was a little girl. I remember that I used to dream of swimming in the ocean and being able to sing like Ariel. I even had TONS of Little Mermaid toys as a child. From Prince Eric and Ariel Dolls to a Sebastian Bath Sponge and Flounder soap!
Now that I am grown I still get excited when I see The Little Mermaid. The first time I met her at Disneyland I even got a little weak in the knees. I love Ariel!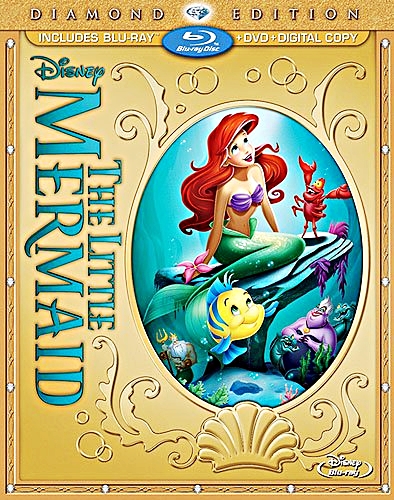 For the first time ever Disney has released The Little Mermaid on Blu-ray. I was excited to be able to see this movie with a fullness of color and even watch a new character that had been deleted from the original!
In Disney's the Little Mermaid you will be carried away on the adventures of Ariel. She is spontaneous and wants more out of life then just swimming around in the ocean. She is a thrill seeker and for some reason can't seem to stay away from those who live on land. Watch as Ariel defies her father and does what she must to be happy…will he forgive her? Will Ariel find the true happiness that she longs for? You will have to watch and see!
On the Back
The Little Mermaid, one of the most celebrated animated films of all time, is now spectacularly transformed for the first time on Blu-ray and Digital Copy with a state-of-the-art digitally restored picture and brilliant high definition sound!
Venture under the sea where Ariel, a free-spirited mermaid princess, longs to be part of the human world. After bravely striking a bargain with Ursula, a sneaky sea witch, Ariel embarks on the adventure of a lifetime. With Flounder and Sebastian at her side, Ariel will need all of her courage and determination to make things right in both her worlds.