~Recipes On A Budget, Decorating Ideas, Coupons & More With All You~
You don't want to miss out any more on budget saving recipes, decorating on a budget and tons of money saving coupons!!
Head over here to sign up for their newsletter or purchase 12 month subscription for only $19.92, that's 44% off cover price!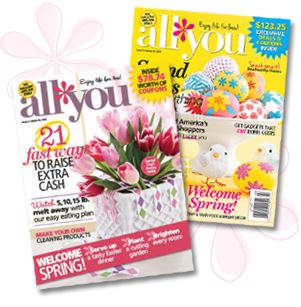 ~All You ~ has some fun and creative ideas on how to help you with everyday battles like what's for dinner tonight and not wanting to break the bank but still impress the family and much more!
There are money saving coupons in the magazine as well so you will want to get your hands on that as well! Plus who doesn't love to get magazines in the mail that will actually help you save money and give you some amazing ideas?!