Baked Chili-Lime Corn on the Cob
I am a lucky girl. I have Sweet Corn all around me in the fall and I can't get enough! There are farmers selling it on every street corner for just $0.25 each and with that price I make sure to stock up on enough Sweet Corn to last me the whole year!
I love how versatile Sweet Corn can be. I put it in my salads, soups, salsa, I bake it, BBQ it and boil it on the stove! It's amazing!
This past week I had some Sweet Corn given to me and I decided to try something I had never done before…I added Chili-Lime to my Sweet Corn! It turned out amazing!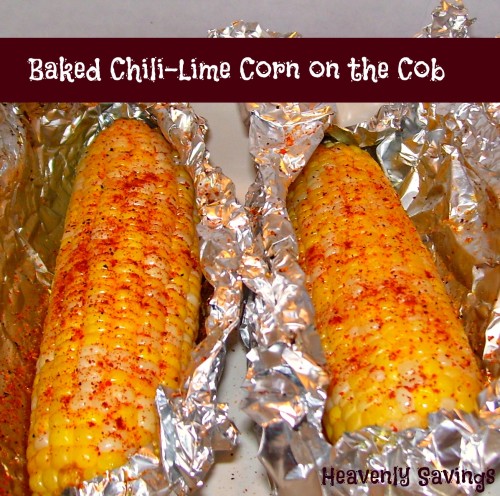 Ingredients:
4 ears of Sweet Corn
2 TBS butter
2 TBS fresh lime juice
1TBS chili powder
4 sheets Aluminum Foil
Directions:
1. Mix Butter, lime juice and chili powder together. Divide into 4 equal parts.
2. Husk corn
3. Place Husked corn in sheet of aluminum foil.
4. Spread divided butter mixture onto each ear of corn, evenly.
5. Wrap corn with aluminum foil and bake at 400 degrees for 20 minutes.
6. Let cool 5 minutes and serve!
The Chili-Lime seasoning added an extra kick to the corn. My whole family enjoyed it and each ear was cooked perfectly in the oven. I highly recommend this recipe to anyone. I even had some Tajin Clasico Seasoning w/ Lime that made each ear of corn that much better! Yum!