Thomas & Friends Animals Aboard!
Thomas & Friends is at it again! This time with their all new DVD Thomas & Friends Animals Aboard!
In Thomas & Friends Animals Aboard you will be taken on an adventure with giraffes, cows, pigs, rabbits and more! Thomas & Friends Animals Aboard hit the shelves a few days ago and can be purchased at Target, on Digital Download or from Video on Demand. But if you want Digital Download or VOD you will have to wait till October 8th.
This fun filled Thomas & Friends Animals Aboard will also be released just in time for the holidays and Fisher Price's animal-themed toy line! Yippee!
Just remember it will be available exclusively at Target!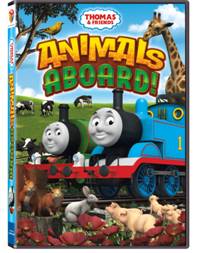 On the Back
All aboard as Thomas and his engine friends embark on exciting adventures with some new furry friends! Percy learns to be gentle when meeting some small forest friends and Thomas goes hog-wild trying to be Really Useful for Farmer Trotter. Henry performs a sweet deed in returning Sodor's special songbird and Thomas must fulfill a tall order when he is asked to deliver the newest animal to Sodor's Wildlife Center. The engines are busy as bees being Really Useful and helping animals big and small.
Bonus Features:
Hear the Engines Coming Karaoke Music Video
Determination Song Karaoke Music Video
How would you like to win a copy of Thomas & Friends Animals Aboard? I am excited to say that one lucky US reader will be able to do just that! Good Luck to All!