French Onion & Parmesan Slow Cooker Pork Chops
My life is hectic and no matter how hard I work it just seems that I get farther and farther behind. Between housecleaning and running the kids all over town, I have no time for gourmet meals anymore. That is why for me and family simple is best at this time.
On those crazy days my slow cooker comes in handy. I find myself using it more and more here recently and I must say we have had some pretty amazing slow cooker meals this week!
One of those meals was my French Onion & Parmesan Pork Chops! They turned out simply amazing! My family honestly could not get enough!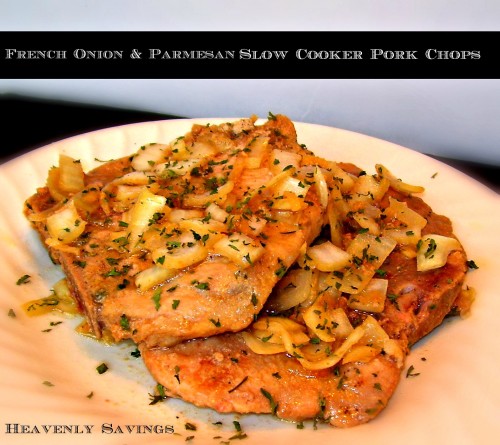 Ingredients:
4 Pork Chops 1/2 stick butter 1 cup water 1 packet French Onion Soup mix 1 medium onion diced 2 tbs dried parsley  3/4 tbs granulated garlic 1 cup Parmesan cheese 
Directions:
1. Add all ingredients to slow cooker and cook on high for 4 hours.
Can you believe that they are really that simple? Just toss in the ingredients and tend to your other needs! I love it!
Do you love your slow cooker as much as I do? What are some of your favorite slow cooker recipes? I love hearing your ideas!