** I was provided with a copy of this title for the purpose of this review. However, my own opinion was used and not influenced in any way.
Thomas & Friends
King of the Railway The Movie
It is no secret that I love Thomas. It is still one of my favorite cartoons to watch with the kids. I love that don't have to worry about what the kids might be learning from this cartoon. It is wholesome and educational. In this movie you will meet a new member of the Sodor team and help them all solve a mystery. I am happy that the makers of Thomas & Friends added castles, suits of armor and all things mid-evil to this movie. I don't know of any child that is not fascinated with knights and castles. When you mix mid-evil with trains you have a hit! I know that your kids will love this movie as much as mine did! Happy watching!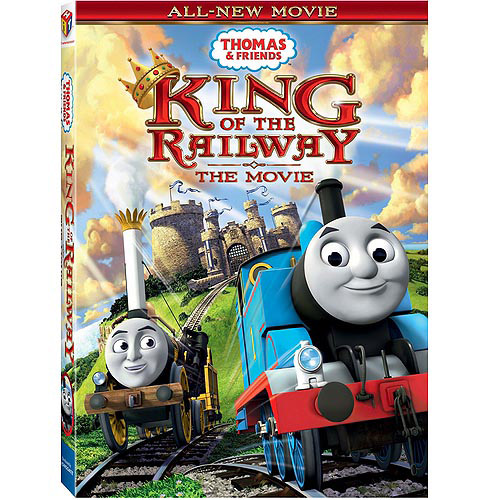 On the Back
Join Thomas & Friends as they embark on a legendary movie adventure! The Steam Team's quest begins when a special guest arrives on Sodor with a big surprise and important jobs for Thomas, Percy ad James. The engines meet new friends and discover suits of armor, coats of arms and legends of long-ago heroes. Then their bravery is put to the test when their new friend Stephen goes missing. Will Thomas find him in time? Will the engines discover the truth about the Island of Sodor's biggest mystery? It's a crusade of knightly proportions for Thomas & Friends in this epic movie!