~Edible Pencils Make The Grade! ~
I always had a fun time trying to figure out what fun healthy snack I was going to take to my kids' kindergarten class when it was my turn and these Edible Pencils got an A+ because everyone loved them and my kids always loved the extra attention they got because their mom brought a fun snack!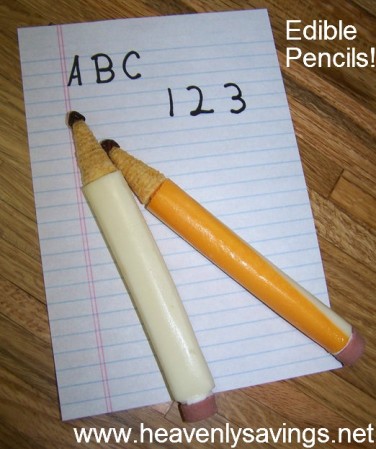 But really, it's string cheese with a twist, it took a  extra time yes but was it worth it? Absolutely! My kids are past kindergarten now and they STILL talk about the fun snacks I always took to school to share!
Here is what you are going to need to make these adorable edible pencil snacks!
Ingredients:
String Cheese (I used two types)
Bag of Bugles
Package of thick cut Bologna (Turkey)
Small Box of Raisins
Cream cheese or Mustard for the "eraser" to stick
Directions:
1.) Set out the cream cheese to soften – Decide how many Pencils you will be making and start making the circles with the meat. I used a clean cap off a tiny container..anything you can find that is about the size of the string cheese end.
2.) Once you have all the "erasers" then you can start opening the string cheese and cutting the ends to make the "tips" so the Bugles can sit on top of them. This process takes awhile if you don't have anyone helping you. I would put the string cheese in the fridge until you are ready to cut it and then put it back into the fridge to keep cool. You will be cutting the end of the cheese like a divot on each side so you have a larger tip to hold the Bugles on. I didn't take a picture of this which I regret so even though I am the world's worst artist I drew an illustration of what it looks like but you can get creative and find your own unique way of keeping it on! But it was like this…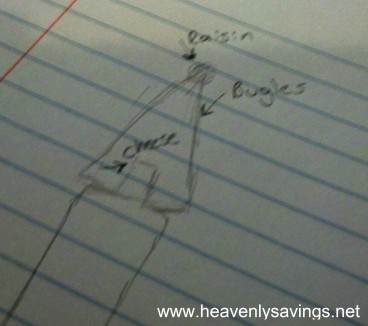 3.) Once you have all the "pencils" shaped you can then use a half raisin to stick onto the tips of each Bugles snack.
4.) Assembly is the best, you can start piecing the erasers on with cream cheese or mustard or anything else that you want that will allow the meat to stay on the cheese. Then add the Bugles to the tops.
5.) Viola, you have edible pencils for little hands to enjoy or big hands…you can sneak one from the kids, I won't tell!
Don't forget to click the 'Magic' button below for Nutritional Information and Weight Watcher's points for this recipe!