Braised Celery!
I am not a huge fan of celery. But, I have been trying to eat it more often because I know it is good for me. I also know that I can't make my daughter eat the healthy stuff if she see's me push it to the side…right? So since I have had a dislike for celery since I was a child I have been trying to focus on different ways to eat it that I might actually like. That is when I came across a recipe for Braised Celery.
Celery is not a vegetable that I see cooked a lot unless it is in a soup. But, I had never thought to cook it as the main ingredient in a side dish. I was intrigued when I seen the Braised Celery recipe and I knew that I had to give it a try.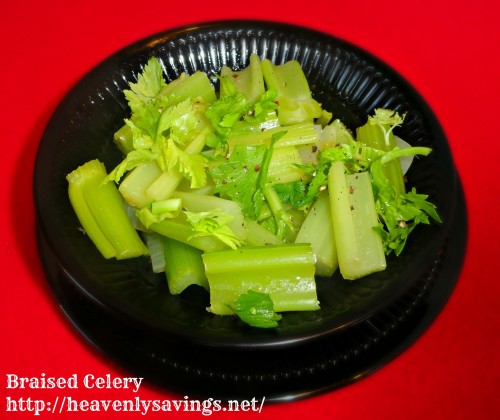 Ingredients:
1 bundle of celery (about 10 stalks) – I chopped the whole stem
1 cup water
1 beef bullion cube
1/2 medium onion sliced
1 tbs butter
1/4 tsp garlic salt
cracked peppercorn to taste
Directions:
1. Wash and chop celery.
2. Add celery, onion and butter to skillet and saute on medium high heat until celery and onion is soft. About 5 minutes.
3. Add water, bullion and garlic salt. Bring to a boil stirring often. Reduce heat, cover and simmer 5 minutes.
4. serve with cracked peppercorn!
This recipe turned out amazing. It was really easy to prepare. Thanks to this recipe I have now found a way to eat celery that I can enjoy!
Don't forget to click the 'Magic' button below for Nutritional Information and Weight Watcher's points for this recipe!


Thanks A Girl Defloured for this great idea!